Note 7 design "unsalvageable" due to battery compression: QC engineering firm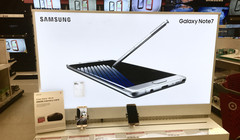 A 3rd party QC engineering firm, Instrumental, believes that putting a larger battery into the Note 7 at the cost of safety resulted in the Note 7's battery fires.
Analysis by Engineering QC firm Instrumental found that the Samsung Note 7's design could actually put pressure on the battery during normal use, according to a release on their website. The engineers found that the clearance for the battery was simply not sufficient enough to account for natural swelling of the battery. According to Instrumental, Lithium-Ion batteries will swell during use, especially as the battery ages. The typical clearance given is usually +10%, but their 2-month-old unit had literally no free space at all, resulting in pressure on the battery.
Pressure on Li-ion batteries is an issue because of their layered structure. The layers are alternatively positive and negative, with a buffer of electrolytes that allow energy to pass though without letting the positive and negative layers touch. If they do touch, it will likely lead to a runaway reaction—i.e. an explosion.
Instrumental believes that the Note 7 couldn't be made safe without reducing the battery to a size that would give it worse battery life than its competitors, thus Samsung pulled the product. Still, it is important to note that this is the analysis of a 3rd party firm and the results of Samsung's official investigation have not yet been released.