Apple may be factory undervolting 2019 MacBook Pro 15 to help with CPU throttling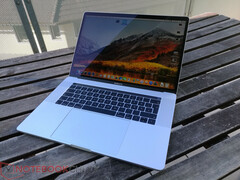 Apple's 2019 MacBook Pros integrate Intel's latest 8-core/16-thread Core i9 CPUs, which add 2 more cores over the 2018 version. Those additional cores should mean higher temperatures and lower clockspeeds compared to the previous generation, yet a recent series of tests by well-known YouTube Channel Linus Tech Tips found some very surprising results.
Like Paul Engermann, it's no secret that Apple's MacBook Pros like to (thermally) push it to the limit. In our 2018 MacBook Pro review, we found that the Dell XPS 15 9570 with Core i7-8750H outperformed the 2018 MacBook Pro with Core i7-8850H in our Cinebench loop test by around 150 points. It was to be expected that throwing an even hotter Core i9-9980 in there without improving the chassis or cooling solution would result in an even worse performance deficit when compared to contemporary PC notebooks or even the 2018 MBP 15... except that isn't what Anthony of Linus Tech Tips discovered in his review of the 2019 MBP 15, and there are a couple of interesting implications which resulted.
Anthony compared the 2019 MacBook Pro 15 with its top-of-the-line i9-9980HK CPU to not only the 2018 MBP, but also the ROG Strix Scar III (the Scar III uses the closest analogue to the HK, the i9-9980H, as no PCs currently use the 9980HK). The 2018 MBP was expected to run cooler due to its 6-core CPU vs the 8-core on the 2019 while the the Scar III has a far superior (robust) cooling system than both of Apple's offerings. The Scar III, with its thicker chassis, naturally ran 29C cooler than the 2019 MacBook. However, the 8-core 2019 MBP unexpected did run 6C cooler than the 6-core 2018 MBP under sustained load.
Throttling as an explanation was immediately discounted by a look at the clock speeds under sustained load: The 2019 MBP ran at 4.2GHz, 2018 at 4.3GHz, and Strix Scar III at 4.1GHz. So, why did the 2019 MBP perform better? The heatpipes and fans of the MacBook Pro did not change, which left two possibilities: (1) improved thermal paste, and (2) a built-in undervolt of the CPU. The theory of MacOS-specific undervolting is supported by the fact that running the same benchmarks under Windows Bootcamp on the 2019 MBP shows significantly deteriorated performance: The sustained 2.7GHz during Prime95 Small FFTs in MacOS dropped to a paltry 2.3GHz (even below chip base clocks) in Windows Bootcamp; if it was a hardware or thermal-paste solution, it should have existed under Windows Bootcamp as well.
The main implication here is that Apple is perhaps one of the first manufacturer's we've seen to undervolt a CPU out of the factory (undervolting is a safe and common technique to reduce temperatures and is typically conducted by enthusiasts to PCs after purchase). Other manufacturers with similarly thermally-constrained laptops, such as Dell, may follow Apple's lead here like they have done by removing the user's ability to replace or upgrade basic and crucial components like the SSD.
Tertiarily, don't buy a 2019 MBP and hope it to perform up to par in Windows as it does in MacOS — but most people aren't buying MacBooks to run Windows, anyway.