Intel doesn't think PCI Express 4.0 is a big deal and has the numbers to prove it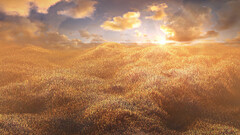 After some tests and number-crunching, Intel has concluded that the theoretical bandwidth for PCIe 3.0 x16 (126.4 Gbps) and even PCIe 3.0 x8 (63.2 Gbps) will be more than sufficient for 4K UHD HDR gaming at 144 FPS.
Motherboards sporting PCIe 4.0 are finally ready to ship this year to succeed the 8-year old PCIe 3.0 standard. To prepare itself for the impending change, UL Benchmarks will be introducing a new benchmark to its 3DMark platform for enthusiasts to test the performance of their new PCIe 4.0-equipped PCs.
Simply called the 3DMark PCI Express feature test, the benchmark will "measure the bandwidth available to your GPU over the PCIe interface" in order to more easily compare bandwidth across multiple PCIe generations. PCIe 4.0 promises two times the theoretical transfer rate over PCIe 3.0 (16 GT/s vs. 8 GT/s) that GPUs, SSDs, and Ethernet controllers can all exploit.
At least one major PC maker, however, is anticipating no immediate gaming benefits from PCIe 4.0. As shown by the Intel slides below, most games and NAND SSDs don't utilize anything faster than PCIe 3.0 x4. Intel even benchmarked two dozen different titles to show no major performance benefits between PCIe 3.0 x8 and PCIe 3.0 x16. Thus, we shouldn't expect significantly faster real-world gaming performance even if the synthetic 3DMark benchmark says otherwise. Much like the drama surrounding its DLSS test, the real-world applicability of the 3DMark PCI Express feature test may be questionable in the short term. We suspect that it'll take a few more years before game developers and SSD manufacturers will want to take full advantage of the higher bandwidth provided by PCIe 4.0.