New rumor from IHS Markit points to 16-inch MacBook Pro this fall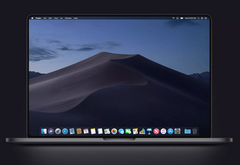 Recent rumors from analyst group IHS Markit are predicting a 16-inch MacBook Pro. The new device, which is speculated to feature a larger 3072x1920 display from LG, could debut at Apple's fall event this September. The laptop would be a good way to address fan requests for a larger MacBook Pro. Despite the larger screen, it may still have a small case that would continue the thermal issues that have plagued the MacBook Pro for years.
Once upon a time, Apple offered a 17-inch MacBook Pro. Some vocal Apple fans have been asking for the return of the large MacBook Pro, but to no avail. However, if a recent rumor from IHS Markit is true, Apple may be giving those users the next best thing: a 16-inch MacBook Pro.
Jeff Lin, the Associate Director of IHS Markit's Consumer Electronics division, said that the market analytics company "[foresees] that Apple will release a new product [at the] September 2019 Apple event." Lin expects the new laptop to sport a 16-inch 3072x1920 LCD display from LG. These new statements lend some credence to predictions from analyst Ming-Chi Kuo concerning a 16-inch MacBook Pro.
The bigger Pro would be Apple's flagship laptop, debuting the Cupertino titan's newest Mac OS Catalina and sporting top-of-the-line silicon from Intel and AMD. While IHS Markit offered no speculation on the internals of the machine, it's not farfetched to suggest they will mirror those of the current high-end 15.4-inch MacBook Pro. That would mean a 9th-gen 8-core Intel CPU and an AMD Radeon Pro 560X or Pro Vega 20.
Of course, a large screen doesn't necessarily mean a larger case to better cool those internals. If the 3072x1920 resolution turns out to be true, that would mean the new MacBook Pro would have the same 16:10 aspect ratio. With a 16-inch diagonal, the new machine's screen would be marginally larger than the current MacBook Pro's (13.6 x 8.5 inches vs. 13.1 x 8.2 inches). Considering the thermal throttling problems the MacBook Pro has faced over the past few years, a larger screen may only exacerbate performance worries; the 16-inch display would have 12% more pixels to push.
Take this all with a grain of salt. We'll know for sure what Apple's cooking up in a couple of months.
Working For Notebookcheck
Are you a techie who knows how to write? Then join our Team! Especially English native speakers welcome!
Currently wanted:
News and Editorial Editor - Details here