Probable new Samsung Galaxy Tab shows up on Geekbench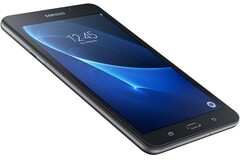 A device with the model number SM-T545 has posted results on the Geekbench 4 website. Its designation suggests that it is a new Samsung tablet, possibly a Galaxy Tab A or Active. With 4GB of RAM and the Snapdragon 710 SoC, it is also distinctly mid-range.
A new leak may give weight to a theory that Samsung is going to release more tablets in the near future. The device in question is decidedly not a high-end product, however. According to new Geekbench listings associated with this device, it has 4GB of RAM and is powered by the Snapdragon 710 processor. Then again, it is also described as running Android 9.0 (Pie).
Nevertheless, this combination of specs has resulted in sub-1000 single-core scores, and not much better in terms of multi-core performance. They have been posted by the SM-T545, which has also been allegedly certified by Samsung at the Eurasian Economic Commission (EEC).
The device is listed as a "tablet" with the EEC. However, that does not shed much light on what this new product might be called when it is released. Its current nomenclature has led to speculation that it may be a new Galaxy Tab. This series is also linked to possible upcoming devices including an Active Pro variant, as well as at least one type of Tab A.