New Samsung Galaxy Tab A rumored to be in development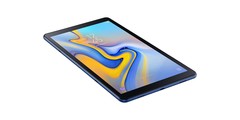 It has been reported that Samsung is working on a new tablet, which could end up being the latest addition to the Galaxy A series. The SM-P205 slate is expected to feature 32 GB of storage and will come in either black or gray. The South Korean manufacturer only recently introduced the Galaxy Tab A 10.5-inch device and the flagship Galaxy Tab S4.
SamMobile has posted some surprising news that involves Samsung developing a new tablet, currently known as the SM-P205. As stated above, the company has only just unveiled some new slates: The Galaxy Tab S4 was launched in August and the Galaxy Tab A 10.5 was announced in the same month. With all hands on deck for the S10 series of flagship smartphones and the upcoming foldable handset, it seems unlikely there is any room left to work on a new entry-level tablet.
But apparently, that is what is going on at Samsung. There are very few details currently available about this rumored device, but it is believed it will have 32 GB of internal storage as a base option and offer itself up in either black or gray. The SM-P205 will purportedly be shipped with firmware version P205DXU0ARL4, although the final OS is not yet known.
It has been speculated this tablet will feature an LCD screen and sport thick bezels on its aluminum frame, so there will be no fancy Super AMOLED display for this entry-level device. It's likely Samsung will reveal more about the rumored slate at the MWC show in February. Or it may even get shown off and quickly overshadowed at the launch event for the Galaxy S10 series, which is expected to take place on February 20.