Apple MacBook Pro keyboard kerfuffle illustrates the problem with increasingly thinner laptops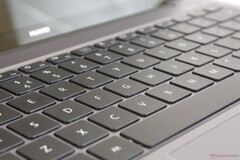 If you want a super-thin laptop, then something has got to go. Manufacturers like Apple, Razer, and Dell have been getting creative with their keyboard technologies with generally mixed results. Qualities like clatter, feedback, and travel that are often taken for granted on a desktop keyboard are becoming trickier to nail on newer laptops.
If you work on both a desktop PC and laptop, then chances are good that you prefer the feel of your desktop keyboard over your laptop keyboard. This apparently won't be getting any better anytime soon with Apple's latest MacBook Pro problem being a perfect example of the challenges many OEMs are currently facing.
As detailed by an article on Fast Company, newer laptop designs are becoming increasingly thin with narrower bezels in order to offer a more portable and visually attractive product. Unfortunately, keyboard travel and feedback have been suffering as a direct result since a traditional laptop key switch occupies 3 to 4 mm of the total thickness of the laptop. With space becoming more scarce year after year, manufacturers like Apple, Dell, and Razer have been designing unique key switches to compensate with often mixed results.
In Apple's case, users have been reporting high failure rates of the "butterfly" key switch found on newer MacBook Pro laptops. Meanwhile, Dell's experimental "MagLev" key switch on last year's XPS 15 9575 convertible remains exclusive to the XPS 15 9575 with no plans to introduce it to the mainline XPS 13 or XPS 15 series as of this writing. Lastly, Razer has all but dropped its in-house mechanical switch on the last generation Blade Pro for for the upcoming 2019 Blade Pro refresh.
In all the above examples, these non-traditional approaches offer very shallow travel that feel noticeably different and even unfavorable for users accustomed to desktop keyboards. It will be interesting to see how OEMs will continue to innovate or balance keyboard feedback with laptop thickness when the current market is favoring thinner and thinner designs.
Working For Notebookcheck
Are you a techie who knows how to write? Then join our Team! Especially English native speakers welcome!
Currently wanted:
News and Editorial Editor - Details here