Woes compounded: A Nokia 3.1 has exploded in a user's hands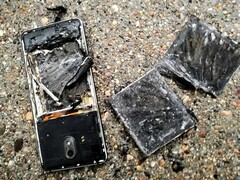 HMD Global may have come out of the storm of the Nokia 7 Plus's case with data violations relatively unscathed but the company will not be able to breathe a sigh of relief, as yet another Nokia device has been caught up in an unfortunate incident. According to reports, a Nokia 3.1 has exploded in the hands of a user in Europe.
HMD Global just cannot seem to be able to catch a break. Just last week, it was discovered that some of the company's devices were sending sensitive user data to China servers. HMD has issued an official statement on the matter and while that is unlikely to be the last we hear of it, the storm has mostly passed. HMD won't be able to breathe any sighs of relief, though, as another Nokia device has now brought some less-than-satisfactory news.
According to the source, the device, a Nokia 3.1, exploded in the hands of a woman in Finland. The device's display apparently went dark and the battery "exploded", prompting the woman to try to remove the battery, which in turn led to sparks and another explosion. The woman walked out of the episode with mild finger burns
The story itself sounds pretty convoluted, we'd say. There is proof of the whole ordeal, though, in the form of images. It's likely that, in an attempt to remove the battery, the woman punctured the li-ion unit, causing a bigger thermal reaction. There's no mention of the device being plugged in, which is usually the cause of incidents like these.
The unit has apparently been sent to the store, and then to HMD Global from there, for testing to know what actually happened.