One RGB customization software to rule them all: Razer Chroma will now encompass 25 additional brands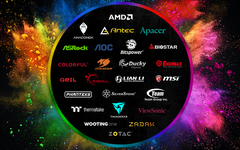 Finally, we will no longer need separate RGB customization software for our Lian Li PC case, MSI keyboard, ASRock motherboard, AMD CPU fan, or Zotac graphics card. Razer Chroma will support all these manufacturers and more.
Working For Notebookcheck
Are you a techie who knows how to write? Then join our Team! Especially English native speakers welcome!
Currently wanted:
News and Editorial Editor - Details here

If you're a desktop PC enthusiast, then you'll likely be familiar with at least one software for controlling RGB lights. In fact, you may be familiar with several. Seemingly every manufacturer has its own proprietary solution for controlling the RGB lights on its graphics cards, RAM modules, motherboards, fans, PC cases, keyboards, mice, monitors, and practically any other accessory we can think of. Wouldn't it be great to have one software for all?
Razer has wisely stepped up to the plate to offer its Chroma software across more devices outside of just the Razer family. Chroma is known for its cloud-enabled settings that allow owners to set and save specific colors and behaviors and then load them onto different Razer machines. While the feature requires a Chroma account, it nonetheless gives a sense of unification amongst all your Razer PCs and accessories. From here on out, this same feature should work not just between Razer devices, but also between devices from Biostar, MSI, AMD, AOC, Lian Li, and more.
We absolutely love this move because it should make life easier for enthusiasts who are constantly jumping between PCs and different accessories. It remains to be seen how this deal would impact the existing RGB customization software from the list of 25 manufacturers. A number of popular manufacturers like Corsair, Asus, Logitech, or Dell Alienware are notably absent from the list for the time being.
The list of 25 brands is included below:
Aerocool Cougar Phanteks
AMD Ducky Silverstone
Antec EKWB Teamgroup
AOC GEIL Thermaltake
Apacer G-skill Viewsonic
ASROCK Lian Li Wooting
Biostar MSI Zadak
Bitspower Patriot Zotac
Colorful