Razer wants you to know that 10 million computer mice weigh about the same as 8 blue whales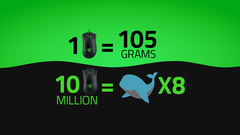 For today's useless fact, Razer has sold about 1,050,000 kg worth of Deathadder mice to be its most successful accessory to date. The Deathadder is the manufacturer's least expensive mouse at $50 USD.
After being in the market for 13 years, the Razer Deathadder computer mouse has just passed a sales milestone of 10 million units. The manufacturer is understandably ecstatic and is boasting its sale numbers with a few trivial facts.
As shown by the infographics below, 10 million Deathadder mice sold is no small feat. This is equivalent to 88 units sold per hour since 2006 or a combined cable length of 22270 km to be longer than the Great Wall of China. As pointless as these comparisons are, they certainly drive home the fact that the Deathadder has been Razer's most popular mouse to date out of the dozen or so models that the OEM offers.
Interestingly, Razer only sold 1 million Deathadder units during the first four years of availability (2006 to 2010) meaning that sales have only been picking up since then to reach the recent 10 million milestone.
The Deathadder is currently available for $50 in over 20 editions including Mercury White, Star Wars, Overwatch, and others.