Do you tape over your laptop webcam? 6 out of 10 owners do as well according to a new HP survey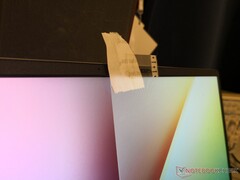 If you thought you were crazy covering your laptop webcam with paper, you're not alone. A continent-wide survey conducted earlier this year has revealed that nearly 80 percent of respondents would rather just turn off their webcams to avoid fears of hacking. Women in particular are more worried about their laptops being compromised and are more likely to tape over or disable their webcams.
While webcams are integrated onto 99.99 percent of modern laptops (that 0.01 percent is the Asus Strix G series), major OEMs are still not quite sure how end-users actually use their laptop webcams, if at all. On May 2019, HP set out to survey 3000 adult laptop owners across the United States, Canada, and Mexico to learn about their webcam behaviors and to what extent they value their webcams. Their answers are actually quite interesting.
For one, 6 in 10 of those surveyed physically cover their laptop webcams with tape, post-it stickers, or pieces of paper in order to feel more secure. Similar research in the past have led to the development of webcam "kill switches" as found on latest HP Spectre laptops or physical camera shutters as found on newer Lenovo ThinkPad laptops.
The study also shows evidence of the webcam paranoia worsening over time. Younger "Gen Z" users are apparently more cognizant of their laptop webcams and are therefore more likely to cover them than users of older generations. The concise HP infographic below summarizes many of the key findings from the month-long survey.