MSI strikes back: Razer Blade Pro 17 vs. MSI GS75 9SG RTX 2080 Max-Q Edition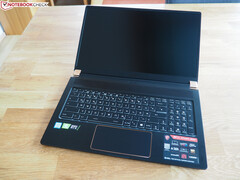 While the Razer Blade 15 is arguably the better buy over the MSI GS65, the same can't be said for the Razer Blade Pro 17 and the MSI GS75. If you travel and type as much as you game, then the GS75 will cover all your bases a little better.
We recently compared the 15.6-inch MSI GS65 to the Razer Blade 15 and found the latter to be the better option overall. One might assume that the same conclusions could be drawn between the 17.3-inch MSI GS75 and Razer Blade Pro 17, but this isn't necessarily the case. While they certainly have many similarities to their 15.6-inch counterparts, there are enough differences to tip the scale back in MSI's favor for certain categories.
For this comparison, we'll be looking at the MSI GS75 9SG and Razer Blade Pro 17 each equipped with the same Intel 9th gen Core i7-9750H CPU and GeForce RTX 2080 Max-Q GPU. Our findings will show that their paper specifications don't tell the whole story when it comes to real-world performance and temperatures. Keep in mind that these two are some of the fastest ultra-thin gaming laptops money can buy regardless of the differences between them.
We recommend checking out our individual reviews on the MSI GS75 8SG/9SG and Razer Blade Pro 17 for more details and benchmark comparisons on each.
MSI GS75 9SG
Razer Blade Pro 17
CPU
Core i7-9750H
Core i7-9750H
GPU
GeForce RTX 2080 Max-Q
GeForce RTX 2080 Max-Q
Display
17.3-inch, 144 Hz, 1080p, Chi Mei N173HCE-G33, Optimus, no G-Sync
17.3-inch, 144 Hz, 1080p, AU Optronics B173HAN04.0, Optimus, no G-Sync
RAM
32 GB DDR4-2666 (2x SODIMM)
16 GB DDR4-2666 (2x SODIMM)
Storage
3x M.2 2280
2x M.2 2280
Battery
80 Wh
70 Wh
Ports
3x USB Type-A 3.1
Thunderbolt 3
USB Type-C 3.0
HDMI 2.0
1 Gbit RJ-45
3.5 mm microphone
3.5 mm earphones
Kensington Lock
3x USB Type-A 3.2
Thunderbolt 3
USB Type-C 3.2
HDMI 2.0b
2.5 Gbit RJ-45
3.5 mm combo audio
SD card reader (UHS-III)
Kensington Lock
Dimensions
18.9 x 396 x 259 mm
19.9 x 395 x 260 mm
Weight
2.28 kg
2.75 kg
Case
If looking only at size and weight, then the GS75 is both the marginally smaller and significantly lighter machine. The half kilogram difference makes the MSI system much easier to lug around in a backpack even though both laptops are nearly the same in terms of dimensions.
On the flip side, the extra weight on the Blade Pro 17 isn't put to waste as it has its advantages. For one, it's undoubtedly the stronger and more inflexible machine that's less prone to creaking, twisting, or visual imperfections. Secondly, the weight aids in cooling as our performance comparisons below will show. More specifically, the Blade system utilizes a hefty vapor chamber cooler versus the traditional heat pipes of the MSI.
Ports
Port options are nearly identical between the two systems save for one main difference: the GS75 has two gold-plated audio jacks while the Blade Pro 17 has an SD card reader. One will therefore be more appealing than the other depending on the use case. In general, however, Razer still edges out the MSI because of its more convenient port positioning. The ports on the MSI system are too close upfront and so any protruding cables are more likely to irritate or just get in the way.
If storage is a concern, then the three M.2 2280 slots in the MSI system will come in handy versus only two in the Razer. The main issue is that many core components on the MSI are more difficult to access including its third M.2 slot and two SODIMM slots. Serviceability is easier and more user-friendly on the Razer especially since there is no anti-tamper sticker on the bottom of the Blade Pro 17.
CPU Performance
The Core i7-9750H in the GS75 performs consistently faster than the same CPU in the Blade Pro 17 even after accounting for any performance throttling. Our CineBench R15 loop test below shows the MSI maintaining its lead albeit just marginally by 4 to 5 percent.
GPU Performance
While MSI has the slightly faster CPU performance, Razer has a larger advantage in GPU performance. 3DMark benchmarks show the Razer to be 11 to 14 percent faster despite carrying the same RTX 2080 Max-Q GPU. We can observe this in action when running Witcher 3; GPU clock rate would stabilize at 1530 MHz on the Blade Pro 17 versus 1275 MHz on the GS75.
Users will get faster gaming performance from the Razer simply because most titles are GPU bound. The more minor CPU advantage of the MSI will make little to no difference when running games.
Temperatures
Core temperatures when gaming are much warmer on the MSI despite it being the slower performer. Its CPU and GPU would stabilize at 85 C and 82 C, respectively, compared to 76 C and 67 C on the Razer when running the same Witcher 3 load. Consequently, surface temperatures are warmer on the MSI as well with hot spots reaching upwards of 55 C compared to 47 C on the Blade Pro 17. The cooler palm rests and WASD keys make for a more comfortable gaming experience on the Razer machine.

Display
It's AU Optronics versus Chi Mei in the battle of 144 Hz 1080p panels. While both panels share very similar response times, gamuts, and contrast ratios, the Chi Mei panel on the MSI is better calibrated out of the box for more accurate colors and grayscale without any additional end-user calibration. It's possible to calibrate the Razer display to be just as color accurate, but this would be an extra step that MSI owners have the luxury of skipping.
Beyond color accuracy, the GS75 also has the brighter backlight for better outdoor visibility. It suffers from pulse-width modulation at very low brightness levels, however, which could impact a small subset of users sensitive to onscreen flickering.
Fan Noise
When idling or running low loads, the Razer system is the quieter option. Its system fans are more lethargic and less likely to pulse than the fans of the MSI for a quieter experience. The opposite is true when running higher loads like gaming; the Blade Pro 17 will be the louder machine and so its higher GPU performance certainly comes at a price.

Power Consumption
The Blade Pro 17 is a bit more power hungry under most scenarios. Running Witcher 3 consumes 17 percent more power on the Razer compared to the MSI (183 W vs. 156 W) partly due to its faster GPU clock rates.
Battery Life
The combination of a larger internal battery and generally higher power efficiency means the MSI can outlast the Razer when web browsing or streaming on the Windows Balanced profile. We're able to record a battery life difference of about 1.5 hours in favor of the GS75 when looping a web page every 40 seconds.
Verdict
While there's a clear winner between the MSI GS65 and Razer Blade 15, it's a bit murkier between the GS75 and Blade Pro 17. Users or constant travelers who want the lighter, brighter, and longer-lasting gaming machine will find the GS75 more appealing. Its integrated NumPad and firmer keyboard keys make it better suited for office or spreadsheet work as well. You'd have to sacrifice a little gaming performance along the way, but what you gain in versatility may be well worth the trade.
Once you launch those games, however, the Blade Pro 17 comes out on top. It has both faster graphics performance and cooler temperatures that any gamer can appreciate and its stronger, sturdier unibody design is arguably more luxurious and representative of an enthusiast machine. It's unfortunately slightly louder when gaming even though both machines are already quite loud when under such heavy processing loads.
For core gamers who desire an uncompromising gaming experience, the Blade Pro 17 would be the superior option. The lighter MSI GS75 fulfills the "jack of all trades" role better than the Razer at the cost of warmer temperatures and slightly slower gaming performance.

MSI GS75 9SG
Razer Blade Pro 17
Advantages

+ Faster CPU performance
+ Marginally thinner
+ Significantly lighter
+ Gold-plated microphone and headphone ports
+ Slightly quieter when gaming
+ Larger battery capacity; longer runtimes
+ Brighter and better calibrated display
+ NumPad
+ 3x M.2 2280 storage slots

+ Faster GPU performance
+ Stronger, sturdier chassis
+ Quieter during low-medium loads
+ SD card reader and 2.5 Gbit RJ-45
+ Cooler surface temperatures
+ Cooler core temperatures
+ Better port positioning
+ Easier serviceability
PCMark 10
Digital Content Creation
MSI GS75 Stealth 9SG


GeForce RTX 2080 Max-Q, i7-9750H, 2x Samsung SSD PM981 MZVLB1T0HALR (RAID 0)

Razer Blade Pro 17 RTX 2080 Max-Q


GeForce RTX 2080 Max-Q, i7-9750H, Samsung SSD PM981 MZVLB512HAJQ

Productivity
MSI GS75 Stealth 9SG


GeForce RTX 2080 Max-Q, i7-9750H, 2x Samsung SSD PM981 MZVLB1T0HALR (RAID 0)

Razer Blade Pro 17 RTX 2080 Max-Q


GeForce RTX 2080 Max-Q, i7-9750H, Samsung SSD PM981 MZVLB512HAJQ

Essentials
MSI GS75 Stealth 9SG


GeForce RTX 2080 Max-Q, i7-9750H, 2x Samsung SSD PM981 MZVLB1T0HALR (RAID 0)

Razer Blade Pro 17 RTX 2080 Max-Q


GeForce RTX 2080 Max-Q, i7-9750H, Samsung SSD PM981 MZVLB512HAJQ

Score
MSI GS75 Stealth 9SG


GeForce RTX 2080 Max-Q, i7-9750H, 2x Samsung SSD PM981 MZVLB1T0HALR (RAID 0)

Razer Blade Pro 17 RTX 2080 Max-Q


GeForce RTX 2080 Max-Q, i7-9750H, Samsung SSD PM981 MZVLB512HAJQ
Razer Blade Pro 17 RTX 2080 Max-Q


AU Optronics B173HAN04.0, IPS, 1920x1080

MSI GS75 Stealth 9SG


Chi Mei N173HCE-G33 (CMN175C), IPS, 1920x1080

Response Times
Response Time Grey 50% / Grey 80% *
Response Time Black / White *
PWM Frequency
Screen
Brightness middle

299.3

366

Brightness

294

343

Brightness Distribution

94

91

Black Level *

0.29

0.29

Contrast

1032

1262

Colorchecker DeltaE2000 *

2.55

1.51

Colorchecker DeltaE2000 max. *

4.73

3.22

Colorchecker DeltaE2000 calibrated *

2.9

0.71

Greyscale DeltaE2000 *

3.5

1.93

Gamma

2.28 96%

2.38 92%

CCT

7101 92%

6881 94%

Color Space (Percent of AdobeRGB 1998)

57

60

Color Space (Percent of sRGB)

88.7

94

Total Average (Program / Settings)
* ... smaller is better