Razer Blade 15 vs. MSI GS65 RTX Edition: Sorry MSI, but Razer has the edge yet again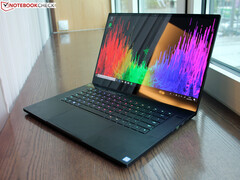 Slightly cooler, slightly quieter, slightly smaller, and slightly faster — the little things all add up for a more favorable experience on the Razer Blade 15.
If you've been shopping around for an ultrathin 15.6-inch gaming laptop, then chances are good that you've stumbled upon the MSI GS65 or Razer Blade 15. These two are some of the thinnest, smallest, and most photogenic gaming laptops in their category with very similar specifications and features between them.
For this comparison, we'll be taking a closer look at the MSI GS65 9SG and Razer Blade 15 Advanced Model each equipped with identical Intel 9th gen Core i7 CPUs, RTX 2080 Max-Q GPUs, 1080p/240 Hz displays, and even 512 GB Samsung PM981 SSDs to see which comes out on top. They may be alike on paper, but differences do begin to appear when you start digging deeper.
We recommend checking out our individual reviews on the MSI GS65 and Razer Blade 15 Advanced Model for more details and benchmark comparisons on each.
MSI GS65 9SG
Razer Blade 15 Advanced Model
CPU
Core i7-9750H
Core i7-9750H
GPU
GeForce RTX 2080 Max-Q
GeForce RTX 2080 Max-Q
Display
15.6-inch, 240 Hz, 1080p, SHP14C5, Optimus, no G-Sync
15.6-inch, 240 Hz, 1080p, SHP14C5, Optimus, no G-Sync
RAM
32 GB DDR4-2666 (2x SODIMM)
16 GB DDR4-2666 (2x SODIMM)
Storage
2x M.2 2280
1x M.2 2280
Battery
82 Wh
80 Wh
Ports
3x USB Type-A
Thunderbolt 3
HDMI 2.0
mDP 1.2
RJ-45
3.5 mm microphone
3.5 mm earphones
Kensington Lock
3x USB Type-A
Thunderbolt 3
HDMI 2.0
mDP 1.4
3.5 mm combo audio
Kensington Lock
Dimensions
17.9 x 358 x 248 mm
17.8 x 355 x 235 mm
Weight
1.97 kg
2.21 kg
Case
Razer is the clear-cut winner in this round. It's smaller in every dimension whilst offering a more rigid chassis design for a tougher, more unyielding, and more luxurious first impression. It's about 200 g heavier, however, likely due to its large vapor chamber cooler when compared to MSI's more traditional approach with standard copper heat pipes.
Serviceability is indubitably easier on the Razer as well whereas the MSI system requires tearing an anti-tamper sticker. The SODIMM and M.2 slots are more difficult to access on the MSI.
(June 7, 2019 correction: Razer Blade 15 Advanced Model has a single M.2 slot versus two on the MSI)
Ports
The GS65 includes RJ-45 and a dedicated 3.5 mm mic port not found on the Razer. Port positioning, however, is arguably better on the Razer whereas all the ports on the MSI are close to the front.
CPU Performance
The MSI system is slightly better at maintaining faster Turbo Boost clock rates than the Razer. As shown by our CineBench R15 Multi-Thread loop test graph below, both systems start out with nearly identical scores. After several loops to account for throttling, however, the CPU in the MSI can outperform the same CPU in the Razer by about 6 to 7 percent.
Running Prime95 reaffirms our observations. The MSI system stabilizes at 3.2 to 3.3 GHz whereas the Razer stabilizes slightly slower at 3.0 to 3.1 GHz.
GPU Performance
In contrast to the above, the Blade 15 has the faster-performing RTX 2080 Max-Q by about 8 to 9 percent according to 3DMark benchmarks. This is at least partially attributed to the faster GPU clock rates of the Razer. When running Witcher 3, for example, the Blade 15 GPU stabilizes at 1350 MHz compared to 1260 MHz on the GS65.
Temperatures
Core temperatures are within a few degrees of one another when gaming with the Razer being just slightly cooler. The CPU and GPU in the MSI stabilize at around 81 C and 71 C, respectively, compared to 79 C and 69 C on the Razer. Activating "Cooler Boost" mode on the MSI system will bump temperatures down even more albeit at the cost of significantly louder fan noise (55 dB(A)) than on the Razer.
Surface temperatures are a mixed bag. The palm rests are cooler and the WASD keys are warmer on the MSI whereas the opposite is true on the Razer. The bottom hot spot on the MSI is especially warmer than the Razer at about 58 C. Comfort is down to user preference especially when it comes to the clickpad, keyboard layout, and key feedback.
Display
Both systems utilize the same 1080p 240 Hz IPS panel from Sharp with nearly identical response times, brightness, gamut, and contrast levels. Thus, the visual experience is almost the same between the two laptops. Interestingly, the MSI panel is ever-so-slightly better calibrated out of the box.
Fan Noise
When gaming, both laptops are about the same at 45 to 46 dB(A) each. When browsing, streaming, or emailing, the Blade 15 is generally the quieter machine as it is less likely to pulse and can remain quieter for longer before needing to kick start the fans.
Power Consumption
The Blade 15 may be 9 percent better in terms of GPU performance, but it consumes about 14 percent more power than the GS65 when gaming. Running Witcher 3 draws 162 W on the Razer compared to 143 W on the MSI.
The opposite is true during very low processing loads. Idling on desktop draws less power on the Blade 15 than on the GS65 to suggest more efficient management of background activity on the Razer. We're able to record between 12 W and 21 W on the Razer compared to 18 W and 29 W on the MSI.
Battery Life
Speaking of power efficiency, the more efficient Razer is able to edge out the MSI in battery life. Real-world WLAN load lasts about 30 minutes longer on the Razer than on the MSI even though both systems are equipped with nearly identical battery capacities.
Verdict
The Razer Blade 15 is marginally smaller, cooler, tougher, quieter, longer-lasting, more serviceable, and with faster GPU performance than the MSI GS65. The differences are generally minuscule, but they all slowly add up to Razer's favor for a more refined experience overall.
The MSI system still has a few advantages going for it. It's noticeably lighter with slightly faster processor performance while hardcore gamers will appreciate the integrated RJ-45 port. Since most games are GPU bound, however, the Razer system will still have the performance advantage when gaming.
The Razer Blade 15 Advanced Model with RTX 2080 Max-Q graphics, 240 Hz display, 512 GB SSD, and 16 GB of RAM can be found for $3000 USD while the MSI GS65 9SG with similar specifications and double the RAM can also be found for $3000 USD. The GS65 would have to retail for a bit less than the Razer when considering its shorter list of strengths.

MSI GS65 9SG
Razer Blade 15 Advanced Model
Advantages

+ Slightly faster CPU performance
+ Lighter
+ RJ-45 and dedicated 3.5 mm mic port
+ Wider clickpad
+ Louder speakers
+ Cooler palm rests
+ 2x M.2 slots

+ Slightly faster GPU performance
+ Smaller in every dimension
+ Stronger build quality
+ Taller clickpad
+ Slightly longer battery life
+ Generally quieter
+ More accessible M.2 and SODIMM slots
+ Cooler WASD keys
+ Smaller AC adapter
PCMark 10
Digital Content Creation
Razer Blade 15 RTX 2080 Max-Q


GeForce RTX 2080 Max-Q, i7-9750H, Samsung SSD PM981 MZVLB512HAJQ

MSI GS65 Stealth 9SG


GeForce RTX 2080 Max-Q, i7-9750H, Samsung SSD PM981 MZVLB512HAJQ

Productivity
Razer Blade 15 RTX 2080 Max-Q


GeForce RTX 2080 Max-Q, i7-9750H, Samsung SSD PM981 MZVLB512HAJQ

MSI GS65 Stealth 9SG


GeForce RTX 2080 Max-Q, i7-9750H, Samsung SSD PM981 MZVLB512HAJQ

Essentials
MSI GS65 Stealth 9SG


GeForce RTX 2080 Max-Q, i7-9750H, Samsung SSD PM981 MZVLB512HAJQ

Razer Blade 15 RTX 2080 Max-Q


GeForce RTX 2080 Max-Q, i7-9750H, Samsung SSD PM981 MZVLB512HAJQ

Score
Razer Blade 15 RTX 2080 Max-Q


GeForce RTX 2080 Max-Q, i7-9750H, Samsung SSD PM981 MZVLB512HAJQ

MSI GS65 Stealth 9SG


GeForce RTX 2080 Max-Q, i7-9750H, Samsung SSD PM981 MZVLB512HAJQ
MSI GS65 Stealth 9SG


Sharp LQ156M1JW03 (SHP14C5), IPS, 1920x1080

Razer Blade 15 RTX 2080 Max-Q


Sharp LQ156M1JW03 (SHP14C5), IPS, 1920x1080

Response Times
Response Time Grey 50% / Grey 80% *
Response Time Black / White *
PWM Frequency
Screen
Brightness middle

282.3

293

Brightness

269

270

Brightness Distribution

90

87

Black Level *

0.32

0.29

Contrast

882

1010

Colorchecker DeltaE2000 *

1.17

1.69

Colorchecker DeltaE2000 max. *

3.29

3.37

Colorchecker DeltaE2000 calibrated *

1.06

1.24

Greyscale DeltaE2000 *

1.3

2.3

Gamma

2.2 100%

2.3 96%

CCT

6643 98%

6758 96%

Color Space (Percent of AdobeRGB 1998)

63.8

63

Color Space (Percent of sRGB)

97.5

98.5

Total Average (Program / Settings)
* ... smaller is better
MSI GS65 Stealth 9SG


i7-9750H, GeForce RTX 2080 Max-Q

Razer Blade 15 RTX 2080 Max-Q


i7-9750H, GeForce RTX 2080 Max-Q

Noise
off / environment *

28.3

28.3

Idle Minimum *

30.4

28.8

Idle Average *

30.5

28.8

Idle Maximum *

30.6

29

Load Average *

37.6

33.5

Witcher 3 ultra *

46

45

Load Maximum *

55.1

45.2
* ... smaller is better
MSI GS65 Stealth 9SG


i7-9750H, GeForce RTX 2080 Max-Q

Razer Blade 15 RTX 2080 Max-Q


i7-9750H, GeForce RTX 2080 Max-Q

Power Consumption
Idle Minimum *

18.3

12.5

Idle Average *

22

15.3

Idle Maximum *

28.8

20.7

Load Average *

93

90.2

Load Maximum *

215.9

209.3

Witcher 3 ultra *

142.6

162
* ... smaller is better