MSI giving away AM4 motherboards, Radeon VII graphics cards, and Steam gift cards in celebration of AMD's 50th anniversary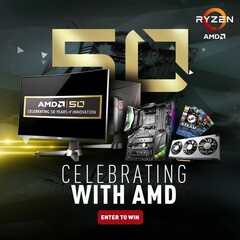 From now until the end of next week, a total of 12 grand prize winners will get an MSI X470 motherboard, Radeon VII graphics card, or 27-inch Optix FreeSync monitor. Users must follow MSI on Twitter, Facebook, or Instagram to be eligible for the prizes.
AMD has been on an uphill trajectory ever since the launch of Ryzen. While its mobile Ryzen series still has a long way to go in terms of market penetration, its desktop series has been popular with PC builders and gamers on tighter budgets. MSI will be handing out some high-end AMD desktop gear as part of the chipmaker's 50th anniversary this year.
From June 17 to June 28, users can enter in the MSI giveaway for one of four MSI X470 ATX AM4 motherboards, four MSI Radeon VII 16G graphics cards, four MSI Optix MAG270VC FreeSync monitors, and several Steam gift cards ranging from $20 to $100 USD each. To enter, users must follow or visit various MSI social media pages as detailed here.
As noted by the terms and conditions, however, only entrants from North America will be eligible to win the physical prizes. Any winners outside of North America would only be rewarded Steam gift cards.
The giveaway is indubitably just a simple ploy to get more followers and eyes on MSI rather than a full-on celebration of AMD, but we can't really complain about a harmless contest. It's worth noting that MSI offers a wide selection of AMD desktop components even though it's not currently shipping any laptops equipped with AMD processors.