Nvidia RTX Studio could spell trouble for the long-running HP ZBook, Dell Precision, and Lenovo ThinkPad P series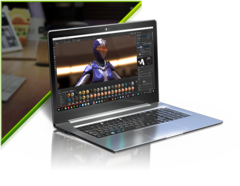 Why can't professional workstations look more like ultra-thin gaming laptops? RTX Studio will kick-off a new generation of sleek professional laptops that are expected to appeal to younger CAD users and digital artists who may not want the thick and visually anemic ThinkPad, Precision, or ZBook laptops of old.
Traditionally, users who wanted a mobile workstation with Quadro or FirePro graphics would almost always turn towards the HP ZBook, Lenovo ThinkPad P series, or the Dell Precision series. These three OEMs control nearly the entire mobile workstation market. While there are a very small handful of exceptions like the Fujitsu Celsius, Clevo series, or MSI W series, none offer anything close to the scale or warranties of the aforementioned big three.
This is all set to change post Computex 2019 with the Nvidia Studio program. Instead of limiting the mobile Quadro series to just three or four big OEMs, the chipmaker will open up the platform to well-known makers of sleek and sexy gaming laptops. Consumer-grade models like the Asus ZenBook Pro, Gigabyte Aero 15, Alienware m15, and even the Razer Blade series will begin offering Quadro GPUs to complement the standard GeForce GPU SKUs. Workstation users will now have a much larger pool of lighter, more portable, and arguably more visually attractive options to choose from that is only expected to grow bigger over time.
The venerable Precision, ZBook, and ThinkPad P series will continue to exist, of course, as evident by the new ZBook announcements and ThinkPad P73 rumors with Quadro RTX 5000 graphics. Still, it's very likely that the RTX Studio laptops will eat into the sales of these traditional mobile workstations especially amongst professionals who value modern Ultrabook-like designs.