RTX support comes to Chaos V-Ray and Blender Cycles animation rendering engines, offering big performance gains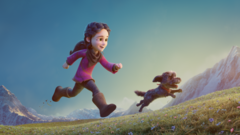 Nvidia's latest set of Studio Drivers bring RTX support to Chaos Group's V-Ray software and Blender's Cycles rendering engine. Through RTX, both engines should see a significant bump in performance in GPU-based rendering. A slew of other content-creation software will also benefit from new features in the latest Studio Drivers.
Nvidia has leaned heavily into the content creation market with Studio-branded devices and creator-targeted drivers. Nvidia's latest update is aimed squarely at animators, offering massive performance boosts in some popular rendering engines.
The latest Studio Drivers from Nvidia will bring support for RTX to Chaos Group's V-Ray and Blender's Cycles rendering engines. According to Nvidia, the new drivers will improve rendering performance by up to 40% in V-Ray, while RTX will make Blender Cycles renders four times faster than rendering on CPU. RTX should also increase performance with regard to real-time renders in both engines.
Other software that will benefit from the latest Studio Drivers includes Adobe Premiere Pro, which now has an AI-enhanced Auto Reframe feature for video crops, Substance Alchemist, a new materials rendering application that renders realistic lighting, and SOLIDWORKS Visualize, which can now render photorealistic images from CAD data 50% faster. Epic Games' Unreal Engine will also get a boost from the newest RTX update with the release of version 4.24 in December.
To download the drivers, head over the Nvidia's website here.