Lenovo VP confirms Snapdragon 730 for the Z6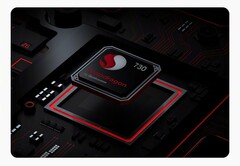 A recent teaser for the upcoming Lenovo Z6 smartphone suggested that it would have Sony AI cameras, a high-capacity battery and a "next-generation" processor. Subsequently, the OEM's vice president got on his Weibo and released more concrete details on the new device. It seems this phone will indeed be getting the Snapdragon 730 SoC.
The latest device release for the Lenovo Z6 series is, oddly enough, to be the Z6 itself. It will join the Z6 Youth, Pro and Pro 5G smartphones on its launch. Like the Youth edition, it is now projected to rock triple rear cameras, whereas the other variants have 4 each. However, these modules are also said to be enhanced with AI and come from Sony.
One of the most recent official leaks on the subject of the Z6 stated that it would have a "next generation" processor, leading to reasonable speculation that this referred to the Qualcomm Snapdragon 730 CPU. However, a second teaser, released this time by a top Lenovo executive, confirms this.
Chang Cheng, the company's vice-president, disclosed this by posting an extended graphic detailing the Z6's better attributes and selling points. The material emphasizes the 730's recently-released status, its state-of-the-art Kryo 470 ARM cores and its maximum 2.2GHz clock speed.
This new teaser also mentioned something called Game Turbo, which may (obviously) be a feature to boost gameplay on the Z6 by making the same SoC run at the top of its game for longer. However, not even this leak has mentioned the new phone's release date yet.