Razer and Quadro together: The Blade 15 and Blade Pro 17 Studio Edition will be Razer's first mobile workstations with Nvidia RTX 5000 graphics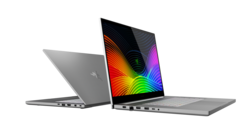 After catering to hardcore gamers for years, Razer is finally ready to expand its portfolio to encompass workstation users as well. The company has announced the 15.6-inch Blade 15 Studio Edition and 17.3-inch Blade Pro 17 Studio Edition based on the existing Blade 15 and Blade Pro 17 designs that we're already familiar with.
The two new Studio Edition models will come standard in the same Mercury White finish that is currently optional on the gaming-grade Blade 15. Perhaps unsurprisingly, they will each carry the same set of features as found on the Blade 15 and Blade Pro 17 including Core X eGPU compatibility. The main distinguishing factor will be the new Turing-based Quadro RTX 5000 GPU in place of the GeForce RTX GPUs.
The Blade Pro 17 Studio Edition will get another feature not found on the regular Blade Pro 17. CPU options will go up to the octa-core Core i9-9880H whereas the standard Blade Pro 17 ships with a hexa-core Core i7-9750H instead. Meanwhile, the Blade 15 Studio Edition will have an OLED option that will not be available on the 17.3-inch model.
One particular disadvantage of the new Blade Studio Edition laptops is the lack of Xeon CPU options. While we're sure performance will be as good as a gaming Blade laptop, hardcore workstation users will not have the performance stability and ECC RAM compatibility that are often associated with the Intel Xeon family. Perhaps Razer will swap out the Core ix for a Xeon E at some point in the future should the new series take off.
The Blade 15 and Blade Pro 17 Studio Editions will launch before the end of this year with exact dates and prices to be determined. Razer's expansion to the mobile workstation market mimics MSI's W Series of workstation laptops. Most MSI workstation laptops are based on the MSI G Series gaming laptops much like how the new Razer Studio Edition laptops are based on the gaming Blade laptops.
TAIPEI, Taiwan (COMPUTEX 2019) – Razer™, the leading global lifestyle brand for gamers, today announced the Razer Blade Studio Edition laptops for creators and prosumers. The line will feature upgraded models of the award-winning Razer Blade 15 and Razer Blade Pro 17, equipped with the latest NVIDIA Quadro RTX Studio graphics processors.
The Razer Blade Studio Edition laptops are anodized with a striking Mercury White finish, equipped with 4K displays, upgraded to 32GB of RAM and 1TB of NVMe storage, and loaded with NVIDIA® Studio Drivers optimized for performance with creative applications.
Brad Wildes, Senior Vice President of Razer's Systems business unit said, "Razer Blades have become the laptop of choice for users desiring uncompromising performance in a premium design. Now, with the power of NVIDIA Quadro GPUs, the Razer Blade Studio Edition will exceed the demands of professional content creators."
· The Razer Blade 15 Studio Edition will be available with a gorgeous 4K OLED touch display, an Intel® Core™ i7-9750H processor, and an NVIDIA Quadro RTX 5000 mobile GPU. The superior processing power of NVIDIA Quadro and vivid colors of the OLED display makes the Razer Blade 15 Studio Edition perfect for creators who are always on the go.
· The Razer Blade Pro 17 Studio Edition will feature a series of firsts, including a new 4K 120Hz display panel, an Intel® Core™ i9-9880H processor, and the NVIDIA Quadro RTX 5000 mobile GPU. These major upgrades to the Razer Blade Pro 17 Studio Edition allow it to rival even the most powerful of desktop workstations.
Creatives users familiar with working on a traditional desktop PC can connect the Razer Blade Studio Edition laptops to the Razer Core X external graphics accessory to create a desktop-class experience on a mobile laptop. With support for desktop PCIe graphic cards like the NVIDIA Quadro RTX GPU, Razer Core X can greatly accelerate the work flow and reduce lengthy rendering times. Applications allowing for dual-GPU rendering will enable users to put both the internal laptop and external desktop graphics to work to provide even better performance.
#MADEWITHBLADE
Razer has a history of supporting the creative community, launching Razer Music in 2016 which provided artists with a powerful but portable solution for music production. In 2018, Razer launched the #MadeWithBlade campaign to expand their support of artists beyond music and into game development, visual effects, and more.
#MadeWithBlade continues to grow and currently features artists such as Murda Beatz, Sonny Digital and the ODESZA Live Visual team, with many more to come.
AVAILABILITY
Studio Edition Blades will be made available later this year. Official pricing and availability to be announced at a later date.
After graduating with a B.S. in environmental hydrodynamics from the University of California, I studied reactor physics to become licensed by the U.S. NRC to operate nuclear reactors. There's a striking level of appreciation you gain for everyday consumer electronics after working with modern nuclear reactivity systems astonishingly powered by computers from the 80s. When I'm not managing day-to-day activities and US review articles on Notebookcheck, you can catch me following the eSports scene and the latest gaming news.