Razer Blade Pro 17 vs. Gigabyte Aero 17: Gigabyte is Catching Up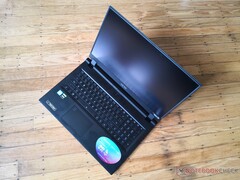 Although the concept of gaming-professional hybrid laptops isn't new, the advent of Nvidia Studio has accelerated the adoption and selection of such high-performance models. Existing laptops designed for professionals like the Gigabyte Aero series have been getting more exposure as a result. This comparison will show what features the gaming-professional Aero 17 has to offer when compared to a "pure" gaming laptop from Razer.
While the Aero 17 isn't a hardcore a gaming laptop (Gigabyte has the Aorus series instead for dedicated gamers), comparisons against other ultrathin gaming laptops are inevitable because of its small form factor and similar high-performance specifications. There's no doubt that the professional Aero 17 can be a capable gaming machine based on its hardware alone.
For this comparison, we want to see how the Nvidia Studio-certified Gigabyte stacks up against one of the most well-known ultrathin gaming laptops in the market: the Razer Blade Pro 17. These two 17.3-inch laptops are quite similar when it comes to size and features and they even target the same audience now that Razer is jumping in on the Nvidia Studio bandwagon as well.
Ideally, we would want an apples-to-apples comparison between the Blade Pro 17 and Aero 17 each equipped with the same CPU, GPU, RAM, and display resolution. The SKUs we have on hand unfortunately do not reflect this as shown by the table below, but we can still draw valuable disadvantages and advantages of each system regardless.
We recommend checking out our full reviews on the Razer Blade Pro 17 and Gigabyte Aero 17 for more detailed information on each. By coincidence, our Razer and Gigabyte configurations each retail for the same price of $3200 USD.
Razer Blade Pro 17
Gigabyte Aero 17 XA HDR
CPU
Hexa-core Core i7-9750H
Octa-core Core i9-9980HK
GPU
GeForce RTX 2080 Max-Q
GeForce RTX 2070 Max-Q
RAM
16 GB DDR4-2666 (2x SODIMM)
16 GB DDR4-2666 (2x SODIMM)
Display
1920 x 1080 FHD IPS
AU Optronics B173ZAN03.2
3840 x 2160 4K UHD HDR400 IPS
AU Optronics B173ZAN03.2
Ports
3x USB Type-A
2x Thunderbolt 3
SD card reader
HDMI 2.0
2.5 Gbit RJ-45
3.5 mm headphones
Kensington Lock
3x USB Type-A
1x USB Type-C + Thunderbolt 3
1x USB Type-C + DisplayPort 1.4
SD card reader
HDMI 2.0
1 Gbps RJ-45
3.5 mm earphones
3.5 mm microphone
Battery
70 Wh
94 Wh
Dimensions
19.9 x 395 x 260 mm
21.4 x 396 x 270 mm
Weight
2.75 kg
2.5 kg
CPU Temperature When Gaming
85 C (Balanced mode)
77 C (Maximum Fan mode)
81 C (Balanced mode)
70 C (Maximum Fan mode)
GPU Temperature When Gaming
72 C (Balanced mode)
67 C (Maximum Fan mode)
78 C (Balanced mode)
64 C (Maximum Fan mode)
Storage
2x M.2 2280 NVMe
2x M.2 2280 NVMe

Case
Razer has the edge in terms of size and rigidity. It's slightly smaller in every dimension than the Aero 17 while being firmer around the base and outer lid for a stronger first impression. Conversely, the Blade is noticeably heavier and denser due in part to its internal vapor chamber cooler.
Other notable advantages over the Gigabyte are superior webcam positioning and the fact that all keyboard symbols are lit on the Razer. Typists may still prefer the Gigabyte for its full-size integrated NumPad and Arrow keys.
Ports
Although there are only a few small differences in port selection between the two systems, we have to give the slight edge to Razer as its RJ-45 port is compatible with 2.5 Gbps speeds and both of its USB Type-C ports are compatible with Thunderbolt 3. Port positioning is more preferable on the Razer as well since its ports are towards the rear of the unit instead of the front. Furthermore, its SD card reader is spring-loaded and so a fully inserted card will not protrude by half its length unlike on the Gigabyte.
The Blade Pro 17 omits a dedicated 3.5 mm microphone jack in favor of a Kensington Lock while the opposite is true on the Gigabyte.
CPU Performance
The octa-core Core i9 in the Gigabyte outperforms the hexa-core Core i7 in the Razer by about 21 percent in multi-threaded workloads after accounting for throttling. The Core i9 CPU experiences a heavier dip in performance over time as shown by our CineBench R15 loop test below, but it is able to maintain its lead over the Core i7 regardless. Note that Razer does not offer any Core i9 options as of this writing.
GPU Performance
While laptops with GeForce RTX 2080 Max-Q GPUs aren't uncommon, Razer's implementation is one of the fastest we've tested as it about 13 percent faster than the average RTX 2080 Max-Q in our database. This helps widen the performance gap between it and the RTX 2070 Max-Q in the Gigabyte. 3DMark results, for example, show Razer with a 33 to 38 percent graphics lead over the Gigabyte. Of course, opting for the Aero 17 YA SKU with RTX 2080 Max-Q graphics will narrow this gap.
Temperature
Core temperatures when under gaming load do not objectively favor one machine over the other. CPU temperatures can range from 77 C to 85 C and 70 C to 81 C on the Razer and Gigabyte, respectively, depending on the fan setting. Similarly, the GPU can range from 67 C to 72 C and 64 C to 78 C, respectively. We can't award any points to one laptop over the other in this particular category since they are equipped with different CPUs and GPUs. As high-performance ultra-thin gaming laptops, however, these results are generally where we would expect them to be.
The WASD keys on the Gigabyte are noticeably cooler than on the Razer since its internal fans pull in fresh air from the air gaps underneath the key caps.
Display
The Blade Pro 17 ships with just a single 1080p 144 Hz IPS option. In comparison, the Aero 17 has this same option with the choice to upgrade to a pre-calibrated 4K UHD HDR400 IPS panel. This latter display is significantly brighter than the Razer display (667 nits vs. 299 nits) with wider colors (87 percent vs. 57 percent AdobeRGB) and a deeper contrast ratio for superior image quality.
The main downside to Gigabyte's 4K display is its slower response times for more noticeable ghosting. If you plan on playing fast-paced games with fast camera movements, then the baseline 144 Hz FHD option would be best. Otherwise, content creators and professionals are more likely to prefer the 4K panel. Gigabyte has the clear advantage in this regard because it offers users a choice.
Fan Noise
The cooling solutions between these laptops couldn't be more different. When running Witcher 3, fan noise is slightly quieter on the Gigabyte than the Razer (42 dB(A) vs. 44.6 dB(A)) even though the Razer is equipped with four (!) individual fans. When on High Performance or "Maximum Fan" mode, the Gigabyte system becomes the significantly louder machine at almost 60 dB(A) versus "only" 51 to 53 dB(A) on the Blade Pro 17. No matter how you spin it, they're both pretty loud when under high processing loads.
For less demanding workloads like web browsing on Power Saver mode, Razer holds the small advantage because its fans are able to idle for much longer periods whereas the Aero 17 fans are seemingly always active. This isn't to say that the Gigabyte is always loud, but the Razer system is noticeably better at offering the quieter experience when not running any intensive tasks.
Power Consumption
The Razer system consumes a bit less power when idling on desktop partly because its display is not nearly as bright as the Gigabyte. When gaming, however, the Blade Pro 17 will consume about 16 percent more power than the Gigabyte which isn't bad for a 30 to 40 percent boost in raw graphics performance and 20 percent loss in CPU multi-thread performance.
Battery Life
The battery in the Gigabyte is 34 percent larger in capacity than the battery in the Razer. Consequently, runtimes are a lot longer on the Gigabyte by about 2.5 hours when both systems are subjected to the similar WLAN loads.
Verdict
Much like in our MSI vs. Razer comparison, it's another tough call between the Blade Pro 17 and Aero 17. The main advantages of the Gigabyte are its wider range of options for the CPU, GPU, and display. If you want a Core i9 CPU, GTX 1660 Ti GPU, or super-bright pre-calibrated 4K HDR400 display, then you're not going to find any of those on the Razer. Its integrated NumPad, lighter weight, and longer battery life are icing on the cake.
The Blade Pro 17 has fewer key advantages, but they're arguably just as important. Its firmer, smaller, and more rigid chassis stands out in favor of the Razer. The Blade Pro 17 will be an even clearer winner if you plan on using the webcam frequently. When you take all the features into account, however, the Aero 17 HDR is able to offer a bit more especially in regard to the display.
Razer Blade Pro 17
Gigabyte Aero 17 HDR
Advantages

+ Traditional webcam positioning along the top bezel
+ Smaller and more rigid chassis
+ All keyboard key symbols are lit
+ Higher than average graphics performance
+ 2.5 Gbit RJ-45 + 2x Thunderbolt 3
+ Quieter when on Power Saver mode
+ Better port positioning
+ SD card sits almost flush against the edge

+ Webcam privacy slider
+ Lighter
+ Core i9, GTX 1660 Ti, and 4K UHD options
+ Larger battery capacity; Longer battery life
+ Brighter HDR display with deeper colors
+ Pantone Certified pre-calibrated display
+ Full-size NumPad and Arrow keys
+ separate 3.5 mm mic and earphone ports
PCMark 10
Digital Content Creation
Gigabyte Aero 17 XA RP77


GeForce RTX 2070 Max-Q, 9980HK, Intel SSD 760p SSDPEKKW512G8

Razer Blade Pro 17 RTX 2080 Max-Q


GeForce RTX 2080 Max-Q, 9750H, Samsung SSD PM981 MZVLB512HAJQ

Productivity
Gigabyte Aero 17 XA RP77


GeForce RTX 2070 Max-Q, 9980HK, Intel SSD 760p SSDPEKKW512G8

Razer Blade Pro 17 RTX 2080 Max-Q


GeForce RTX 2080 Max-Q, 9750H, Samsung SSD PM981 MZVLB512HAJQ

Essentials
Gigabyte Aero 17 XA RP77


GeForce RTX 2070 Max-Q, 9980HK, Intel SSD 760p SSDPEKKW512G8

Razer Blade Pro 17 RTX 2080 Max-Q


GeForce RTX 2080 Max-Q, 9750H, Samsung SSD PM981 MZVLB512HAJQ

Score
Gigabyte Aero 17 XA RP77


GeForce RTX 2070 Max-Q, 9980HK, Intel SSD 760p SSDPEKKW512G8

Razer Blade Pro 17 RTX 2080 Max-Q


GeForce RTX 2080 Max-Q, 9750H, Samsung SSD PM981 MZVLB512HAJQ
Razer Blade Pro 17 RTX 2080 Max-Q


AU Optronics B173HAN04.0, IPS, 1920x1080

Gigabyte Aero 17 XA RP77


AU Optronics B173ZAN03.2, IPS, 3840x2160

Response Times
Response Time Grey 50% / Grey 80% *
Response Time Black / White *
PWM Frequency
Screen
Brightness middle

299.3

667.3

Brightness

294

633

Brightness Distribution

94

90

Black Level *

0.29

0.46

Contrast

1032

1451

Colorchecker DeltaE2000 *

2.55

3.53

Colorchecker DeltaE2000 max. *

4.73

6.88

Colorchecker DeltaE2000 calibrated *

2.9

3.79

Greyscale DeltaE2000 *

3.5

0.9

Gamma

2.28 96%

2.17 101%

CCT

7101 92%

6533 99%

Color Space (Percent of AdobeRGB 1998)

57

87.1

Color Space (Percent of sRGB)

88.7

100

Total Average (Program / Settings)
* ... smaller is better