Deal | Chuwi LapBook Plus only $370 USD for a limited time, is now the cheapest 4K laptop available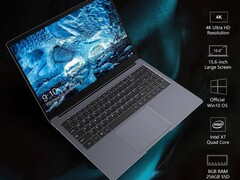 Chuwi's least expensive 4K laptop gets even cheaper with a sizable price cut and a free carrying bag for the first 200 orders.
Chuwi specializes in offering very inexpensive laptops and tablets with chassis designs inspired by high-end Ultrabooks and Apple laptops. They may sometimes even use the same components as high-end Samsung devices or Lenovo laptops to offer very similar visual experiences. The company's latest laptop, the LapBook Plus, offers the same 15.6-inch 4K UHD display as on the Lenovo Yoga 730 15 for just a fraction of the price.
From September 29th through October 1st, AliExpress will be bumping the price down of the LapBook Plus from $440 to $370. If 4K is your priority, then you'd be hard pressed to find something cheaper. Keep in mind that the manufacturer had to cut a lot of corners in order to reach such low prices including the very slow passively-cooled Atom processor in lieu of a "proper" Core U-series solution. Our test unit exhibited creaky hinges while the clickpad was somewhat finicky.
See our full review on the Chuwi LapBook Plus for our thoughts on the system.