Dell XPS 13 7390 now shipping with Intel Comet Lake-U for $979; hexa-core Core i7-10710U options coming October 1st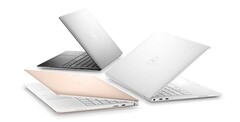 Be one of the first to own an XPS laptop powered by Intel's Comet Lake-U CPU series. The XPS 13 7390 is expected to be the first consumer Ultrabook available with a hexa-core processor, but it'll likely cost you north of $1800 USD.
As promised, the XPS 13 7390 clamshell series with Intel 10th gen Comet Lake-U is now available and ready to order. The initial four SKUs are as follows:
Dual-core Core i3-10110U, 4 GB soldered RAM, 256 GB M.2 PCIe SSD, $979 USD
Quad-core Core i5-10210U, 8 GB soldered RAM, 256 GB M.2 PCIe SSD, $1126 USD
Quad-core Core i7-10510U, 16 GB soldered RAM, 512 GB M.2 PCIe SSD, $1597 USD
Quad-core Core i7-10510U, 16 GB soldered RAM, 1 TB M.2 PCIe SSD, $1744 USD
The one missing option is the even faster hexa-core Core i7-10710U that will become available starting October 1st according to Dell. Judging by the above prices, however, we wouldn't be surprised to see the hexa-core XPS 13 start at $1900 USD. Other than the new CPU options, the chassis remains identical to the XPS 13 9380. We recommend choosing carefully due to the non-upgradeable RAM across the XPS 13 lineup.
Users looking for more graphics power may want to consider the XPS 13 7390 2-in-1 instead which ships with Intel 10th gen Ice Lake-U and faster Iris Pro graphics. It's too bad that there are no similar options or even discrete GPU options for the XPS 13 clamshell as competing 13.3-inch Ultrabooks like the Asus ZenBook 13 or Razer Blade Stealth each come with GeForce MX options.
Beyond the XPS family, Dell will also be shipping the refreshed Inspiron 13, 15, and 17 7000 2-in-1 series and the Inspiron 14 7000 clamshell beginning on October 1st. All of these systems made their debut at IFA 2019.