Improving Twitch livestreams with AI: Nvidia finds another nifty use for its GeForce RTX graphics cards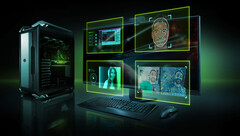 Nvidia is boosting the value of its GeForce RTX series with new features designed specifically for online social gamers. By utilizing the Tensor cores of its RTX GPUs, a normal webcam will be able to detect, track, map, isolate, filter, and augment faces in real-time for streaming or video chatting.
The applications of AI have always been wide-reaching, but it wasn't until recently that AI would be applied to improving gaming performance or even anti-virus software. Nvidia has found a way to exploit its GeForce RTX Tensor cores even further to aid Twitch streamers via a new suite of Broadband Engine SDKs.
As shown by the Nvidia clip below, the Broadband Engine kit utilizes AI to detect faces, track facial features, and augment special effects all with just a regular webcam. This tech can allow for AR FaceTime-style video chats or filters without requiring special IR cameras or depth sensing. Furthermore, the tech can isolate the streamer from his or her background when streaming to allay the need for any green screens.
All GeForce RTX graphics cards will support Broadband Engine. Nonetheless, we're willing to bet that enabling the feature would impact ray-tracing and/or DLSS performance when gaming since Broadband Engine will take up Tensor core resources. Nvidia will demo its new SDKs at Twitchcon 2019 this weekend.