Turtle Beach claims its new Atlas Edge USB adapter gives any 3.5mm-jack headset an audio edge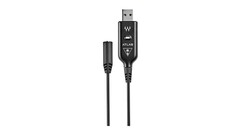 Turtle Beach has released the Atlas Edge, a new USB adapter for any conventional wired headset. It is intended to enhance any headset connected to it with an in-house panel of software called Control Studio. This suite is designed to convert audio through the Atlas Edge into a "full panoramic 3D audio experience".
Turtle Beach has developed a solution for those who would like better audio on their PC, but who still like their wired headsets. The Atlas Edge is a headphone jack adapter with a USB output on the other end. Its installation into a system apparently confers the brand's proprietary Control Studio on it, primarily on the audio heard through the pre-existing headset.
The suite mainly consists of Waves Nx and Waves Maxx aural technology. Turtle Beach asserts that this enhances audio to the extent that it generates a 3D surround experience. The Atlas Edge also monitors microphone telemetry so that the user can hear their voice through the connected headset in question.
Control Studio also imparts Turtle Beach's "exclusive" Superhuman Hearing sound setting on a headset connected to the adapter. This delivers "precision" sound as well as a 10-channel equalizer to optimize audio during gaming, chats or calls. The Atlas Edge goes for US$29.95 (buy now at Amazon) through its OEM's website and select retailers from now.