Latest Asus ZenBook 15 is proof that we could use more laptops with both ULV Core U CPUs and GeForce Max-Q graphics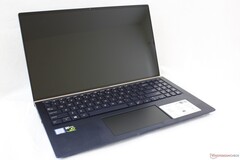 While we aren't expecting to see any laptops with both the Core i7-8565U CPU and GeForce RTX 2080 Max-Q GPU, we could argue that the Core i7-8565U or any other ULV Core i7 CPU would pair very well with an entry-level Max-Q GPU like the GTX 1650 Max-Q. OEMs like Asus and Razer have already been investing in such Ultrabook-Gaming hybrid laptops.
If you're in the market for a laptop with GeForce Max-Q graphics, most are going to come equipped with a relatively powerful 45 W Intel Core H-series CPU instead of the less demanding 15 W Core U-series CPU. After all, Max-Q GPUs primarily target gamers who may be more likely to want an equally powerful CPU instead of an ultra lower-power option. Nonetheless, the latest Asus ZenBook 15 UX534 is one of the few traditional Ultrabooks to buck this trend by shipping with a Core U-series CPU and a GTX Max-Q Turing GPU.
We walked away impressed by the 2019 ZenBook 15 as it is able to offer nearly the same gaming performance as an entry-level Turing gaming laptop while being just as thin and light as any other Ultrabook — if not more so. The Asus Ultrabook is 300 g and 500 g lighter than the Dell XPS 15 and HP Spectre x360 15, respectively, since these alternatives utilize more demanding Core H-series CPUs. It's true that the Core U CPU would be more likely to bottleneck the GPU than a Core H-series CPU, but you'll be even more likely to reach GPU bottlenecks as most titles these days are GPU bound. When running Shadow of the Tomb Raider, for example, the ZenBook 15 would trail behind the Asus ROG GX531GM dedicated gaming laptop by only about 20 percent even though the latter houses much more powerful Core i7-8750H and GTX 1060 processors.
At least two other OEMs are seeing the value in offering ULV Ultrabooks with relatively powerful GeForce Max-Q graphics. The MSI Prestige 14 and upcoming Razer Blade Stealth Ice Lake, for example, both come equipped with similar ULV CPU options and the GeForce GTX 1650 Max-Q GPU as our Asus ZenBook 15. If you're a gamer who wants a middle-ground between dedicated gaming laptops and budget low-power Ultrabooks, then the ZenBook 15, Prestige 14, or Blade Stealth 13 should fill that niche rather nicely.