No HDMI or Thunderbolt yet again: Microsoft Surface Laptop 3 is being stingy on connectivity and now it's really starting to show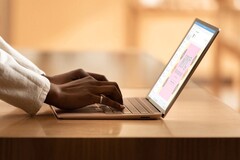 Be prepared to carry around a bunch of adapters if you plan on buying the latest Surface Laptop. The newest models haven't improved upon one of the weakest aspects of the Surface Laptop 2 series to make alternatives like the Dell XPS series, HP Spectre series, or Asus ZenBook series appear more versatile.
Yesterday, Microsoft lifted the curtains off a whole new family of Surface devices ranging from pocket-sized dual-screen smartphones to the full-size 13.5-inch and 15-inch Surface Laptop 3. It was their chance to fix some of the biggest complaints about the Surface series and, to Microsoft's credit, at least a few of those complaints have been addressed. Critics of Alcantara can now choose an all-aluminum chassis for the 13.5-inch model and both sizes will finally come with USB Type-C after being years late to the party.
Despite the new additions, the same glaring disadvantage of the Surface Laptop series remains: Connectivity. Both the 13.5-inch and 15-inch models will come with the same ports even though the latter is physically larger and could afford additional options. With just one USB Type-C port, one USB Type-A port, a proprietary charging port, and an audio jack, the 15-inch Surface Laptop 3 will have one of the weakest connectivity features of its size class when it launches later this year.
Consumers will inevitably compare the Surface Laptop to other 13.3-inch and 15.6-inch Ultrabooks like the Dell XPS 13 or 15, HP Spectre 13 or x360 15, Asus ZenBook 13 or 15, Lenovo ThinkPad X1 Carbon, or even the MSI Prestige 14. Each and every one of these alternatives offer more connectivity options than the upcoming Microsoft Surface Laptop by including either multiple USB Type-C or Type-A ports, SD card readers, or Thunderbolt 3. The upcoming HP Spectre in particular will integrate 4G LTE and eSIM to be even more versatile than the Surface Laptop when on-the-go. If you rely on a wide array of integrated ports on your laptop, then the Surface Laptop 3 might not be your best option. (Surface Laptop 2 on sale now at Amazon)
Working For Notebookcheck
Are you a techie who knows how to write? Then join our Team! Especially English native speakers welcome!
Currently wanted:
News and Editorial Editor - Details here