Atari teams with Antstream Arcade for VCS console retro gaming subscription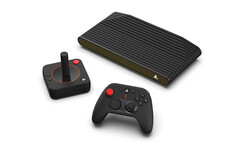 Atari and Antstream Arcade for an exclusive app that will deliver over 2,000 officially licensed retro video game titles to the forthcoming console. The Antstream Arcade app for the Atari VCS will also include 50 original Atari titles in original or enhanced versions.
The launch of the Atari VCS 800 is slated for March 2020 and the team behind it are working hard to ensure that it launches with some solid titles behind it. In addition to launching with the Atari Vault on board with over 100 classic titles, Atari has now partnered with Antstream Arcade on an exclusive app and subscription service. Customers who sign up to a monthly US$9.99 plan will gain access to over 2,000 streaming titles including an additional 50 classic Atari titles in original or enhanced versions with global leader boards.
"Antstream Arcade is a perfect partner for Atari and its fans," Atari CEO Frédéric Chesnais said in a statement. "Antstream's offering lets players instantly access a vast library of games, including many Atari titles that have not been available for streaming before now."
Although some thought the Atari VCS might end up as vaporware when concepts were first shown in 2017, it is increasingly looking like it could be the real deal. It is currently up for pre-order through GameStop, Walmart and AtaricVCS.com from US$249. It is powered by an AMD Ryzen R1000 Vega 3-based chipset with either 4GB of RAM or 8GB of RAM and can play games at 4K/60 fps. It also features USB 3.0, HDMI, Wi-Fi, Bluetooth and Ethernet connectivity and can run Linux or Windows games in a special Atari Sandbox Mode (although the latter will require the supply of a license).