The Atari VCS gets a pre-sale date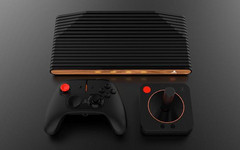 Atari has announced in a new press release that the Atari VCS hardware platform will have a pre-sale starting on May 30. The console will be available from US$199 during the pre-sale, which is being exclusively held through the crowdfunding website Indiegogo. However, the first actual shipments aren't expected to start until spring 2019.
A press release from Atari has offered up the date of May 30 for the start of pre-sales for the Atari VCS console. Potential buyers will have to go to the Indiegogo website to sign up for a pre-order deal. The press release states that the early-bird Atari VCS package will be available for a price starting from US$199. The console apparently comes in two variants: One with the familiar retro-inspired wood trim (the Collector's Edition) and one with a sleeker black look (Atari VCS Onyx).
Development has been a long and rocky road for the device previously known as the Ataribox. It is being created by Atari, SA, which is a French holding company that was formerly known as Infogrames Entertainment. The team at Atari has worked with AMD to provide the console with a modern processor; but the press release offers only some scant specification details:
The Atari VCS platform will offer support for 4K resolution, HDR and 60FPS content, onboard and expandable storage options, dual-band WiFi and Bluetooth 5.0, as well as USB 3.0 support.
Although the console has a retro design, it is intended to offer up-to-date functionality in regard to gaming and multimedia entertainment. Naturally, there are plans to include a "vault" containing the classic titles that made Atari's name in the game industry.