Atari VCS ditches custom AMD Bristol Ridge A10 for an unannounced dual-core Ryzen APU; console still not available though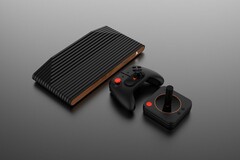 The team behind the much-delayed Atari VCS has announced an APU replacement for the game console. Previously, a customized A10 chip from AMD's Bristol Ridge series was going to be installed, but perhaps wisely the developer has now upgraded that choice to a more modern dual-core Ryzen processor. Graphics will be processed by a Radeon Vega GPU rather than the R7 GPU.
Remember the Ataribox? We first reported on it back in 2017, but news about the console started to diminish by the second half of last year. However, the team behind the 2019 Atari VCS is back and has interesting CPU-related news to share. The AMD Bristol Ridge chip originally chosen to power the device has been shown the door and the welcome mat has been put down for a new dual-core Ryzen APU.
It makes a lot of sense for the Atari VCS' developers to switch out the processor. A Bristol Ridge chip with an R7 graphics solution isn't going to cut the mustard for a game console that may eventually have to compete against the next generation of PlayStations and Xboxes. An unnamed and unannounced dual-core Ryzen APU (possibly another custom chip) with a Radeon Vega GPU and two Zen cores will now be in charge. Obviously, this will make the Atari VCS faster and apparently cooler…and it will also mean further delays.
The end of 2019 is now being targeted by the company for shipping the console in North America, but it might be wise to save the time clearing space for it under the television for now until an actual delivery date is confirmed. But Atari fans shouldn't despair: Switching to a mysterious brand-new AMD Ryzen APU could be a masterstroke that helps the Atari VCS succeed in a cutthroat market.