Machine learning from US$99: Nvidia unveils tiny Jetson Nano AI computer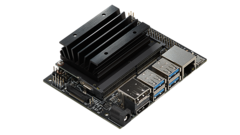 Nvidia has launched the Jetson Nano, a small computer that offers machine-learning capabilities at an entry-level price. The developer kit costs US$99 while a production-ready module will cost US$129. The Jetson Nano module offers 472 GFLOPS of computing performance in a 69.6 mm x 45 mm package. Worldwide distribution for the module version will begin in June; the developer kit is available now.
The Raspberry Pi single-board computer and its many rivals/copycats have proved that there is a huge global market for these types of products. Nvidia wants a cut of that market and has relied on its GPU expertise to create a computer that should attract users who are interested in AI development. The Jetson Nano comes with a GPU that is based on the company's Maxwell microarchitecture and features 128 CUDA cores.
The little AI computer board is also packed with a quad-core ARM Cortex-A57 CPU and comes armed with 4 GB 64-bit LPDDR4 memory. Storage is provided by 16 GB eMMC flash (microSD for the production-ready module variant) and H.264/H.265 video encoding is available at 4K @ 30 FPS with decoding available at 4 K @ 60 FPS. The Nvidia Jetson Nano packs quite the punch and will be an incredibly strong competitor against other single-board computers, regardless of their cheaper price points.
The developer kit variant is larger, at 100 mm x 80 mm, and it only supports one camera data lane whereas the module variant supports 12. It seems likely tech tinkerers will prefer the developer kit version, while the Jetson Nano module version should appeal to companies looking to craft a product utilizing affordable AI technology. The Linux-compatible boards are brimming with connectivity options: Gigabit Ethernet, HDMI 2.0 or DP1.2, eDP 1.4, DSI (1 x2) 2 simultaneous, 1 x1/2/4 PCIE, 1x USB 3.0, 3x USB 2.0. Nvidia sees the product offering application uses such as a network video recorder, a robot for use in the home, or as a component of an IoT intelligent gateway.