The ToyBrick RK3399 Pro, a Raspberry Pi-sized SBC that outperforms the NVIDIA Jetson Nano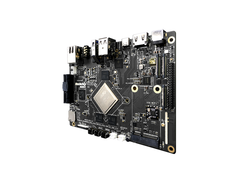 The ToyBrick RK3399 Pro is a developer board that is powered by an RK399Pro SoC, which integrates an ARM Mali-T860MP4 GPU and an RK1808 NPU that can achieve up to 3.0 TOPS. The board can dual-boot Android and Linux out of the box and comes with up to 6 GB RAM and 32 GB of eMMC flash storage.
NVIDIA caused a stir when it released its Jetson Nano, which is powered by a quad-core ARM Cortex-A57 CPU and 4 GB of LPDDR4 RAM. The Nano received praise for its ability to deliver 472 GFLOPS of performance. However, the NVIDIA board is not the only affordable platform to perform well in AI workloads.
The ToyBrick RK3399 Pro, which is based on the Rockchip RK3399Pro SoC, has been shown to outperform the Nano in benchmarks. Chengwei Zhang demonstrated that the ToyBrick averaged around 6% higher FPS than the Nano, although this is comparing the former running the Keras Inception V3 model and the latter with the Keras MobileNetV2 model. It is worth keeping in mind that the MobileNetV2 model is smaller and less complex than the Inception V3 model, so the ToyBrick and RK3399Pro SoC should open a much larger lead over the Nano in directly comparable models.
The main downside with the ToyBrick and any RK3399Pro based developer board is cost. The cheapest ToyBrick, which comes with 3 GB RAM and 16 GB of storage, currently costs US$249 online. This is over double what the Nano costs, and this gap widens by an additional US$50 if you choose the 6 GB and 32 GB version of the ToyBrick. In short, RK3399Pro based boards are still an affordable machine learning platform, but their improved performance over the NVIDIA Jetson Nano comes at a significant uplift in cost.