NVIDIA GTX 1650 on a Single Board Computer? It is now possible with the LattePanda Alpha 864s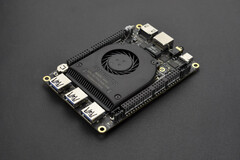 The LattePanda Alpha 864s comes with a full PCIe x4 M.2 slot that can be used to install entry-level GPUs such as the NVIDIA GeForce GTX 1650 without the requirement of any additional power supply. The GTX 1650 can easily run modern games above 60 fps at low to mid settings giving the LattePanda a big boost in graphics capabilities.
The LattePanda Alpha 864s is a powerful Single Board Computer (SBC) that comes with an Intel Core m3-8100Y CPU, 8 GB LPDDR3 RAM, and 64 GB of eMMC storage. What's so great about this SBC, you ask? Well, the Alpha 864s comes with a PCIe x4 M.2 slot, which can be used to connect a desktop NVIDIA GeForce GTX 1650.
The GTX 1650 can easily run off PCIe power and does not need a separate power unit. It also has just about enough performance so as to not bottleneck the humble Core m3. The LattePanda Alpha 864s comes with both Windows and Linux options and the GTX 1650 can run just fine in both.
Fossbytes details how to go about installing a GTX 1650 onto the Alpha 864s. Since the SBC does not come with a dedicated PCIe slot, you need to repurpose the M.2 slot into a PCIe x4 slot using an M.2 to PCIe Adapter Card; an extension cable can be used if needed. Install the GTX 1650 onto the PCIe adapter and power on the LattePanda. And voila! You should be able to experience much better graphics performance compared to the Intel UHD Graphics 615 iGPU.
On testing, the LattePanda Alpha 864s with the GTX 1650 could manage 90 fps in Doom 2016 at (medium), 92 fps in Overwatch (low), 70 fps in GTA V (medium), and above 120 fps in Fortnite (high). These are very good figures and all this additional graphics capability can be had in a total volume of just 1.8 litres.