Khadas VIM3L: An Amlogic S905D3 powered single-board computer for HTPC applications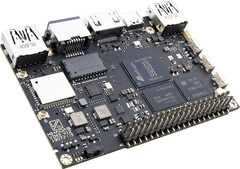 The VIM3L is the latest single-board computer that Khadas is bringing to market, with the company targeting the HTPC market this time. The VIM3L is powered by an Amlogic S905D3 SoC along with 2 GB of LPDDR4 RAM, 16 GB of eMMC flash storage and a neural processing unit capable of up to 1.2 TOPS of performance.
The VIM3L is effectively the Lite variant of the already available VIM3, which we have previously covered. Khadas is pitching the VIM3L for the HTPC market, with it presumably costing less than its more powerful sibling too.
The board measures 82 x 58 x 11.5 mm and is powered by an Amlogic S905D3-N0N that integrates four ARM Cortex-A53 cores. Khadas complements this with 2 GB of DDR4 RAM, with VIM3L also able to deliver up to 1.2 tera operations per second (TOPS) thanks to its neural processing unit (NPU).
Moreover, the VIM3L has 16 GB of eMMC flash storage that Khadas promises is built by Samsung. The board has microSD card and M.2 slots for additional storage too. Elsewhere, the board supports all modern Wi-Fi standards up to IEEE 802.11 ac and Bluetooth 5.0, with there also being Gigabit Ethernet and an IR receiver.
The VIM3L will also have an HDMI 2.1 port and a MIPI DSI port. As usual for a single-board computer, the VIM3L has a GPIO header for connecting actuators and sensors, with I2C, I2S and UART being supported too.
Khadas has not yet announced pricing or availability for the VIM3L or a full spec sheet. We shall keep you updated when we hear of it.