Maixduino: A sub-US$25 Arduino Uno-sized single board computer that supports AI workloads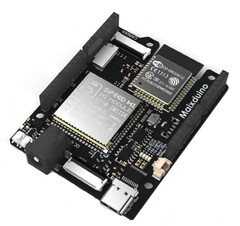 Sipeed has designed the Maixduino for use in AI and IoT applications. The single board computer (SBC) has the form factor of an Arduino Uno and comes with a 2.4-inch TFT display along with an OV2640 2 MP camera module. The Maixduino has various ports and connectors including USB Type-C and can be pre-ordered for US$23.90 or US$20.90 without the camera and display. The SBC will ship worldwide on May 27.
The use of neural networks is on the rise. Huawei introduced the first smartphone chipset with a neural processing unit (NPU) in 2017 with the Kirin 970, which allowed the Mate 10 Pro to recognise some objects when taking a photo and automatically adjust camera settings accordingly. Since then, Apple, Qualcomm and Samsung have all brought NPUs to market, and now that technology has started trickling down to developer and hobbyist boards.
There are already several other developer boards that support AI workloads like the NVIDIA Jetson Nano, but they are often rather expensive. Some boards like the ToyBrick RK3399 Pro, which delivers better performance than the Nano, start at a steep US$249.
The Sipeeed Maixduino, by contrast, is an affordable and Arduino Uno-sized alternative that features a dual-core 64-bit RISC-V K210 processor, which incorporates a 400 MHz neural network processor. The SBC supports Bluetooth 4.2 and up to IEEE 802.11 n Wi-Fi, but can receive data from its 24-pin camera connector or its MEMS microphone. Sipeeed has incorporated Arduino Uno compatible GPIO pins too, to which you can connect various actuators and sensors.
The SBC can be powered via its DC connector, which requires a 6-12 V input, or its USB Type-C port. The Maixduino supports Arduino IDE, OpenMV IDE, MaixPy IDE, and PlatformIO IDE along with Mobilenet, Tiny-Yolo and Tensorflow Lite. The board can currently be pre-ordered on Seeedstudio, which sells numerous other Arduino based products and IoT tech too. The company is selling the Maixduino for US$20.90 or US$23.90 with an OV2640 2 MP camera module and a 2.4-inch TFT display. Orders will ship worldwide from May 27.