Strawberry4Pi 2: A Raspberry Pi home automation HAT that has its own mobile app and costs less than US$30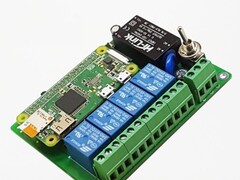 The Strawberry4Pi 2 is an IoT HAT designed for the Raspberry Pi with a difference. The HAT costs just US$29 but comes pre-installed with its own OS and a mobile app that can control your internet connected devices. No coding required. The Strawberry4Pi 2 is available to order on Kickstarter and will ship in August.
The Strawberry4Pi 2 is designed to bring home and even industrial-scale automation to the Raspberry Pi and Raspberry Pi Zero W. The company has developed a board for each Raspberry, which both come with a pre-configured Linux-based OS and a mobile app that Strawberry4Pi will release for Android and iOS.
Both Strawberry4Pi 2 boards are equipped with four SONGLE relays, a temperature sensor and a Wi-Fi configuration button. The Raspberry Pi 3 A/B board also has a 5V input, while the Zero W board has a 100 V - 220 V input, which are made possible by 2-pin and 3-pin terminal blocks respectively.
Strawberry4Pi has released a short video explaining the functionality of its mobile app too, which we have included below. Essentially, the app allows you to manipulate the board's relays, which it refers to as Pins. The video demonstrates that the app supports PWM, timers and manual power control, among other features.
The Strawberry4Pi 2 is currently available to order on Kickstarter, with shipping starting in August. The crowdfunding campaign has already exceeded its US$2,976 goal with US$4,114 having already been pledged with 33 days to go. The company has also included two stretch goals, which would bring voice assistant and dimmable service capabilities to the boards.
The Strawberry4Pi 2 costs US$29 for the Pi 3 A/B board and US$39 for the Zero W board. You can also buy them buy as a bundle for US$65. Strawberry4Pi will include a 3D printed case with all orders too.