The Raspberry Pi 4 now runs cooler thanks to a firmware update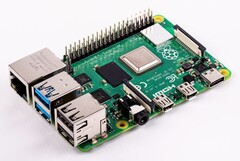 The Raspberry Pi Foundation has released a USB firmware update for the Raspberry Pi 4 that reduces its SoC operating temperatures by up to 4 °C. The update is available to download now and should reduce throttling in multi-core tasks. Beware though, it will possibly reduce USB transfer speeds.
The Raspberry Pi Foundation released its latest single-board computer (SBC) last week to much fanfare. However, the Raspberry Pi 4 runs hot out of the box, with Jean-Luc Aufranc of CNX Software reporting that the SBC would thermal throttle in multi-core threaded benchmarks like 7-Zip.
Well Eben Upton, the CEO of the Pi Foundation, noticed Aufranc's article and provided him with a firmware update with "some thermal optimizations that are not installed by default on early production units". The update addresses the VIA VL805 PCIe USB 3.0 controller, enabling Active-State Power Management (ASPM).
Aufranc reports that the RPI 4 will now run 3-4 °C cooler at idle and under load. He conducted his tests in a room at a constant air temperature too, eliminating that variable from his results. The update, named 0137a8, yields better multi-core performance under sustained load, although some people on the official Raspberry Pi forum have reported a reduction in USB transfer speeds. Moreover, if the update fails for whatever reason, then USB connectivity will break, meaning that you must SSH or serial into your RPI 4 to flash the previous firmware.