With a firm grip on 40 percent of the gaming headset market, Turtle Beach has become the most popular headset brand for core gamers by far. Part of this is because the company offers a wide range of headsets ranging from the entry-level $40 Recon 70 all the way up to enthusiast $150 solutions. Today, the San Diego-based manufacturer has announced the availability of its latest pair of enthusiast headphones: the Elite Atlas Aero. This page will give an overview on some of its more useful features and what users can expect out of the box.
See the product page here for more details on the specifications of the Elite Atlas Aero.
Setup is easy as it should be for any pair of headphones. The Aero works pretty much immediately after plugging in the USB receiver and pressing the Power button on the headphones. To fully exploit all of its features, however, you'll have to download the proprietary Control Studio software here. Turtle Beach recommends disabling any other third party audio software like Waves Maxx Studio or MSI Dragon Center to avoid any conflicts.
3D audio DSP is supported on the Atlas Aero only when paired with a PC. The headset is otherwise limited to stereo when connected to consoles.
The USB receiver is required for wireless connectivity as there is no Bluetooth option. A standard 3.5 mm cable works as well for devices like the Nintendo Switch or PS4 controller. If you have a smartphone or iPhone with no headphone jack, however, then you'll be out of luck.
Keep in mind that the right earphone has a very useful recess for holding the USB receiver when traveling.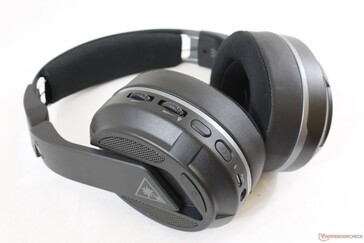 The software is probably our favorite aspect of the Atlas Aero because it is an easy-to-use no-frills command center with lots of customization options. Aside from the expected functions like bass control, treble control, and an equalizer, the macro feature makes the Atlas Aero more versatile than most other headphones. Turtle Beach boasts some special features like "Superhuman Hearing" or "Chat Boost" to make game sounds and voices easier to hear, respectively. However, other manufacturers have been offering similar post-processing effects that are platform agnostic to work on any set of generic speakers. You'll more likely be using the software for its Macro options rather than its audio-enhancing sliders.
While the software is free to download, you'll have to own the Atlas Aero in order to use it. A separate dongle called the Atlas Edge allows the software to work on any pair of headphones or speakers albeit in a more limited fashion.
The cushions can be easily removed for cleaning or for adjusting the ProSpecs Glasses Relief system. It may sound fancy, but the feature is just a rubber fastener to create a slight indentation along the side of the cushion as shown below. This allows users to wear both glasses and the headphones at the same time without the cushions applying unnecessary pressure on the temple of the glasses.
We're hopeful that Turtle Beach will sell the cushions separately in the future should users want replacements or different colors.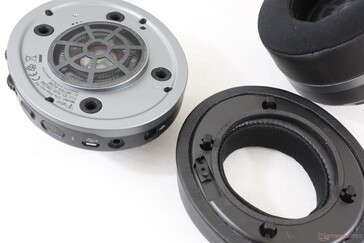 There are a few things we would change to improve the Atlas Aero. For one, the microphone could have been more flexible or even retractable as it doesn't fold or transport very well with the headphones. A Bluetooth option for smartphones would have also made this the perfect pair of headphones to have for long flights. Furthermore, a set of multimedia buttons on the right earphone like Play, Back, Forward, or Next would have made the Atlas Aero more versatile for both gaming and music playback. Imagine how convenient it would be to have all your gaming controls on the left earphone and all your music controls on the right earphone. Otherwise, there's not much to dislike about the Atlas Aero unless if you happen to be a fan of tacky LED lights or cat ears.
The Turtle Beach Elite Atlas Aero and Atlas Edge are now available for $150 and $30, respectively.
San Diego, CA – September 30, 2019 – Turtle Beach (Nasdaq: HEAR), a leading gaming audio and accessory brand, today announced the all-new Elite Atlas Aero Wireless High-Performance PC Headset – the latest addition to its lauded Atlas PC line – is available globally at participating retailers and from www.turtlebeach.com. Raising the bar for high-quality wireless audio on PC, the Elite Atlas Aero delivers premium sound and comfort, has a 30-hour rechargeable battery, and debuts alongside Turtle Beach's new Control Studio™ desktop software suite featuring immersive Waves Nx® audio technology that transforms stereo and surround sound into a full panoramic 3D audio experience. Control Studio also features a PC-optimized version of Turtle Beach's exclusive Superhuman Hearing® sound setting for a competitive advantage, plus the Waves Maxx suite of sound settings where users can tune both gaming and microphone audio, making it perfect for gamers and streamers alike. The Elite Atlas Aero is available at participating retailers worldwide and at www.turtlebeach.com for a MSRP of $149.95.
And as a special gift for gamers who also love music, Turtle Beach is also offering a full year of TIDAL Premium with the purchase of an Elite Atlas Aero Wireless High-Performance PC Headset. Beginning today through January 31, 2020, fans who purchase an Elite Atlas Aero from www.turtlebeach.com will receive a code for 12 FREE months of TIDAL Premium when activated by December 31, 2020, giving them the opportunity to stream their favorite artists from their mobile devices, wireless speakers, and computers.
"Elite Atlas Aero delivers an unrivaled audio experience and we believe it to be the best wireless PC gaming headset on the market," said Juergen Stark, CEO, Turtle Beach. "The Aero combines our expertise on delivering superior comfort and quality in gaming headsets with the GRAMMY® award-winning Waves team and their powerful Nx 3D audio which takes PC sound to entirely new heights. And of course we're also thrilled to offer fans more access to the music they love through TIDAL, where they'll get a full year of TIDAL's high-quality Premium service on us with the purchase of an Aero headset from turtlebeach.com."
Added Tomer Elbaz, Executive Vice President and General Manager, Consumer Electronics at Waves Audio, "Waves Nx and Maxx technologies featured in Turtle Beach's new Control Studio software suite offer a new level of engagement and control to gamers from casual to core. Recognizing that we actually hear before we see, the Elite Atlas Aero with Waves provides sonic depth and clarity that enables quicker responses to gameplay, deeper focus, and a more immersive entertainment experience."
Below are full details for Turtle Beach's Elite Atlas Aero Wireless PC Gaming Headset.
Elite Atlas Aero Wireless PC Gaming Headset
Whether dominating the battlefield, streaming your favorite game or simply enjoying all that the internet has to offer, Turtle Beach's Elite Atlas Aero is built for the complete wireless PC audio experience, providing premium sound and comfort, and a vast, customizable soundstage. Access Turtle Beach's Control Studio – an all-new desktop software suite with many options to customize your audio, including Waves Nx audio technology which transports players into a home theatre-like 3D listening experience, Waves Maxx sound enhancements, as well as a PC-optimized version of Turtle Beach's exclusive Superhuman Hearing sound setting. Powerful 50mm Nanoclear™ speakers and a high-sensitivity microphone deliver crisp sound and crystal-clear chat for focused immersion. Built with comfort and durability in mind, the Elite Atlas Aero features a sleek metal headband with a floating cushion, Turtle Beach's exclusive ProSpecs™ Glasses Relief system, and includes a rechargeable 30-hour battery so you can stay in the game or stream even longer.
For the latest information on Turtle Beach products, accessories, and stories, visit the Turtle Beach website at www.turtlebeach.com and the Turtle Beach Blog at https://blog.turtlebeach.com. Fans can also follow Turtle Beach on Facebook, Twitter, and Instagram.
About Turtle Beach Corporation
Turtle Beach (www.turtlebeach.com) is a leading gaming audio and accessory brand, offering a wide selection of cutting-edge, award-winning gaming headsets. Whether you're a professional esports athlete, hardcore gamer, casual player, or just starting out, Turtle Beach has the gaming headset to help you truly master your skills. Innovative and advanced technology, amazing high-quality gaming audio, crystal-clear communication, lightweight and comfortable designs, and ease-of-use are just a few features that make Turtle Beach a fan-favorite brand for gamers the world over. Designed for Xbox, PlayStation®, and Nintendo consoles as well as for PC, Mac®, and mobile/tablet devices, owning a Turtle Beach gaming headset gives you the competitive advantage. Hear Everything. Defeat Everyone®. In 2019 Turtle Beach acquired ROCCAT, a leading PC accessories maker that combines detail-loving German innovation with a genuine passion for designing the best PC gaming products. Turtle Beach's shares are traded on the Nasdaq Exchange under the symbol: HEAR.
After graduating with a B.S. in environmental hydrodynamics from the University of California, I studied reactor physics to become licensed by the U.S. NRC to operate nuclear reactors. There's a striking level of appreciation you gain for everyday consumer electronics after working with modern nuclear reactivity systems astonishingly powered by computers from the 80s. When I'm not managing day-to-day activities and US review articles on Notebookcheck, you can catch me following the eSports scene and the latest gaming news.