Leaked Microsoft Surface promo images and latest rumors: new colors, connectivity upgrades, borderless Surface Pro 7, Alcantara-less Surface Laptop 3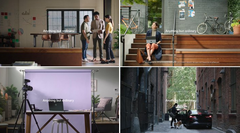 New alleged details about Microsoft's upcoming new Surface products have emerged. Apparently, a selection of fresh colors for the next generation of Surface devices is inbound, and the newest edition to the Surface Laptop line will be shorn of its Alcantara coat. Arguably, the most exciting leak is the supposed almost borderless display that the Surface Pro 7 (or just "Surface 7") will sport.
With a big Microsoft event just around the corner, it's hardly surprising that the leaks have started coming thicker and faster. French website FrAndroid has published a whole bevy of beauties concerning the forthcoming updated Surface devices. According to the post, the new designs have actually been seen by reporters, but no images have been posted to prevent their source getting into trouble.
First up, there could be new choices for Microsoft Surface fans when it comes to color. Sandstone yellow, glacier blue, and poppy red are rumored to be joining the color options, which will definitely please potential buyers who prefer a Surface that stands out from the crowd.
Next, it seems there will be at least one configuration of the Surface Laptop 3 that will not be graced with an Alcantara covering. Also, the connectivity options of the next generation Surface Laptop have been updated and will now include two USB Type-C ports.
If that's not enough Surface-related leaks to take in, then there's also the report that the new Surface Pro model will not only be named "Surface 7", as opposed to the presumed "Surface Pro 7" moniker, but it will also feature a nearly borderless display. FrAndroid describes the look of the device as being similar to that of the iPad Pro, with the left and right side bezels being particularly narrowed down.
Interestingly, this border shrinkage apparently only affects one particular Microsoft Surface 7 SKU: The rumored ARM-powered tablet. This variant will also have USB Type-C connectivity and 4G LTE communication capability, while the MiniDisplayPort and USB Type-A port have been dropped. According to the source report, there will also be a "classic" Intel-powered Surface Pro 7 with thicker bezels than its ARM-based relative but with updated connectivity options as well. (buy Microsoft 2019 Surface Pro 6 now at Amazon)