Surface Pro 7: Official marketing images leak ahead of tomorrow's launch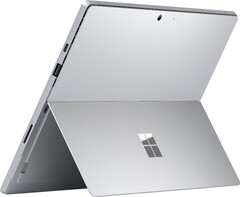 The wait for the next Surface hardware event is almost over. However, Evan Blass has come through early and delivered the first look at the Surface Pro 7, courtesy of what are likely leaked marketing images. The device looks like a minor revision of last year's Surface Pro, but with one notable change.
If you had not heard already, Microsoft is hosting its next Surface event tomorrow where it is expected to unveil several new pieces of Surface-branded hardware. One such anticipated device is the Surface Pro 7, which has been rumored to feature next-generation Intel Core processors and even the fabled USB Type-C port.
Microsoft has stuck doggedly to Mini DisplayPort for the Surface Pro series, but that is set to change according to photos published by Evan Blass. The set of four appear to be marketing images and show that the Surface Pro 7 has eschewed the Mini DisplayPort in favour of USB Type-C. It is safe to say that the latter will support DisplayPort too, although there remains a question mark over whether it will also be a Thunderbolt 3 port.
The photos show the Surface Pro 7 retaining all the other ports that Microsoft included on its predecessor, including Surface Connect. The Surface Pro 7 will continue to have just one USB Type-A port too, although the inclusion of USB Type-C makes the device more flexible than its predecessors in our opinion. Overall, this upgrade brings the Surface Pro in line with the Surface Go, which also had USB Type-C. We shall learn more tomorrow at Microsoft's launch event tomorrow about the configurations of the Surface Pro 7 and whether Microsoft has any tricks up its sleeve. (buy Microsoft 2019 Surface Pro 6 now at Amazon)