Intel Cascade Lake-X Core i9 processors to start at US$590; 18 core Core i9-10980XE will cost just US$979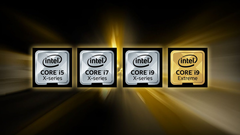 Intel has not only confirmed the product stack of its Cascade Lake-X series but has also priced it unbelievably competitively. The series starts at just US$590 for the 10 core Core i9-10900X, before rising to US$979 for the 18 core Core i9-10980XE. Your move, AMD.
Until now, we have been unsure of how Intel would achieve its claims of Cascade Lake-X offering better value for money than the Threadripper 2000 series. As a recap, the Skylake X Refresh generation costs several factors than comparable AMD High-End Desktop (HEDT) processors, so Intel has responded.
Brought to our attention by Legit Reviews and Anandtech, Intel has confirmed that Cascade Lake-X will cost between US$590 and US$979, making the series leagues more affordable than its predecessor. The company has slimmed its HEDT offering to just four SKUs, all of which we have already seen being benchmarked on Geekbench. As the picture below shows, the Core i9-10900X will be the baby of the family, followed by the Core i9-10920X and the Core i9-10940X, with the Core i9-10980XE topping the product stack.
All CPUs will have 165 W TDPs, while all but the Core i9-10980XE will have 19.25 MB of L3 cache. Additionally, all will support Intel Hyper-Threading and 256 GB of quad-channel DDR4-2933 RAM, along with 72 PCIe lanes. Expect to see Cascade Lake-X launching in November, with all SKUs supporting the new Wi-Fi 6 standard too.