Update | New Intel Xe GPU info: Gen 12 mobility iGPUs designed to deliver [email protected] gaming, discrete GPUs to get ray-tracing support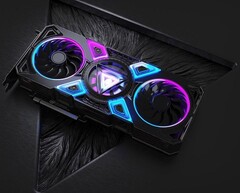 Update: An Intel official contacted us stating that the Director of Intel tech HQ Kenichiro Yasu did not actually mention specific targets for the next gen iGPUs, but instead made an assumption based on earlier performance gains projected by Intel. Moreover, there was no mention of hardware ray tracing support for the discrete Xe GPUs, this was only speculated by the Japanese site Mynavi.jp based on rumors regarding the addition of ray tracing support for Tekken 7. Intel does mention that ray tracing support will be added to the Xe architecture roadmap for data center optimized rendering, so this may not apply to the gaming-oriented discrete GPUs launching next year.
It is no secret that Intel is currently facing a complicated predicament. On the CPU side, the jump to 10 nm is not without problems, as the 14 nm shortages are still in effect. Then there is AMD's constant pressure with the 7 nm Ryzen 3000 CPUs on the desktop front, as well as on the mobile one, plus the rapidly rising server market share thanks to the more affordable EPYC processors. Intel's short-term solution: price cuts of up to 50% across the board. For the long-term plan, however, Intel intends to make an impactful comeback on the discrete GPU market with the Xe architecture that is scheduled to release in mid-2020.

As far as integrated GPUs go, Intel has always been king in this sector. AMD may have tried to offer a viable alternative with the integrated Vega GPUs, but there is no immediate threat in this regard. Still, it looks like Intel is not content with the performance of the Gen 11 iris Plus iGPUs included in the new Ice Lake mobility CPUs. According to new benchmarks revealed at the IDC 2019 conference in Tokyo, the Iris Plus iGPUs still struggle to deliver 60 fps in 1080p for the most popular eSports games. Director of Intel tech HQ Kenichiro Yasu explained that the upcoming Gen 12 Xe iGPUs (Tiger Lake) should finally offer smooth framerates for all popular 1080p games, as the Xe architecture is designed to deliver 100% performance boost over the Iris Plus iGPUs.

Yasu also mentioned that the discrete Xe GPUs are getting hardware-level ray tracing support, so they will most likely compete with Nvidia's upcoming Ampere GPUs launching in 2020. Intel also plans to release 7 nm versions of the Xe GPUs for HPC and AI applications, but these are scheduled for a 2021 release. More details on the discrete Xe GPUs should be unveiled at CES 2020 in January.
I first stepped into the wondrous IT&C world when I was around seven years old. I was instantly fascinated by computerized graphics, whether they were from games or 3D applications like 3D Max. I'm also an avid reader of science fiction, an astrophysics aficionado, and a crypto geek. I started writing PC-related articles for Softpedia and a few blogs back in 2006. I joined the Notebookcheck team in the summer of 2017 and am currently a senior tech writer mostly covering processor, GPU, and laptop news.