AMD 2nd generation EPYC processors are up to 50% more powerful and 50% cheaper than Xeon Platinum Cascade Lake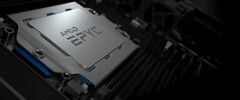 The 2nd gen EPYC series is finally here, with AMD claiming it blows comparable Intel Xeon processors out of the water not only on performance but also value for money. The series scales from 8 cores to 64 cores and offers up to 256 MB of L3 cache, along with 128 lanes of PCIe 4.0 and 23% more IPC than its predecessor.
Cue the puns, for AMD has unveiled the full-stack of its 2nd generation EPYC series processors. Excuse the length of our table below, for AMD has released 19 SKUs that cost between US$450 and US$6,950. Only 7 of the 19 processors cost less than US$1,000 too, although that is unsurprising considering that they are all server-grade components, which typically cost more than the consumer counterparts.
AMD bases the 2nd gen EPYC series on its Zen 2 architecture, which it manufacturers on a 7 nm FinFET process. In its product announcement, the company claims that the 2nd gen EPYC processors can "deliver up to 23% more instructions per clock (IPC) per core on server workloads and up to 4X more L3 Cache" than their predecessors, with the EPYC 7702 achieving up to 50% better performance in benchmarks than the Intel Xeon Platinum 8280.
2nd gen EPYC chips are also the first x86 server processors to support PCIe 4.0, with all CPUs able to utilise PCIe 128 lanes. AMD also boasts that the series is "hardened at the core", with all SKUs having integrated and dedicated security processors for Secure Boot, Secure Memory Encryption (SME) and Secure Encrypted Virtualization (SEV).
While the 2nd gen EPYC series will probably not find its way into many consumer builds, Google, Microsoft and Twitter have all announced that will deploy 2nd gen EPYC processors within their datacentres. Moreover, Dell and Lenovo will be releasing 2nd gen EPYC powered servers, with the latter already having released the ThinkSystem SR655 and SR635. Please see our rather long table below of the current 2nd gen EPYC line-up.
Overview: AMD EPYC 7002 series
| Model | Cores | Threads | Base clock | Max Boost | Default TDP | L3 cache | Pricing |
| --- | --- | --- | --- | --- | --- | --- | --- |
| 7742 | 64 | 128 | 2.25 GHz | 3.40 GHz | 225 W | 256 MB | US$6,950 |
| 7702 | 64 | 128 | 2.0 GHz | 3.35 GHz | 200 W | 256 MB | US$6,450 |
| 7720P | 64 | 128 | 2.0 GHz | 3.35 GHz | 200 W | 256 MB | US$4,425 |
| 7642 | 48 | 96 | 2.3 GHz | 3.3 GHz | 225 W | 256 MB | US$4,775 |
| 7552 | 48 | 96 | 2.2 GHz | 3.3 GHz | 200 W | 256 MB | US$4,025 |
| 7542 | 32 | 64 | 2.9 GHz | 3.4 GHz | 225 W | 256 MB | US$3,400 |
| 7502 | 32 | 64 | 2.5 GHz | 3.35 GHz | 180 W | 256 MB | US$2,600 |
| 7502P | 32 | 64 | 2.5 GHz | 3.35 GHz | 180 W | 192 MB | US$2,300 |
| 7452 | 32 | 64 | 2.35 GHz | 3.35 GHz | 155 W | 128 MB | US$2,025 |
| 7402 | 24 | 48 | 2.8 GHz | 3.35 GHz | 180 W | 128 MB | US$1,783 |
| 7402P | 24 | 48 | 2.8 GHz | 3.35 GHz | 180 W | 128 MB | US$1,250 |
| 7352 | 24 | 48 | 2.3 GHz | 3.2 GHz | 155 W | 128 MB | US$1,350 |
| 7302 | 16 | 32 | 3.0 GHz | 3.3 GHz | 155 W | 128 MB | US$978 |
| 7302P | 16 | 32 | 3.0 GHz | 3.3 GHz | 155 W | 128 MB | US$825 |
| 7282 | 16 | 32 | 2.8 GHz | 3.2 GHz | 120 W | 64 MB | US$650 |
| 7272 | 12 | 24 | 2.9 GHz | 3.2 GHz | 120 W | 64 MB | US$625 |
| 7262 | 8 | 16 | 3.2 GHz | 3.4 GHz | 155 W | 128 MB | US$575 |
| 7252 | 8 | 16 | 3.1 GHz | 3.2 GHz | 120 W | 64 MB | US$475 |
| 7232P | 8 | 16 | 3.1 GHz | 3.2 GHz | 120 W | 32 MB | US$450 |