Scalable Intel Xeon Platinum-M series to be depreciated; L-series to take its price-point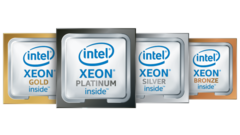 Intel has announced a shake-up in its line of Xeon scalable processors. The OEM will cease sales of the M variants of these server-grade SoCs (the Xeon Platinum 8280M, for example) will. However, their L (the Platinum 8280L, and so on) counterparts will take their place in this tier of chipsets.
Intel's German division has just informed us that some of its Xeon scalable processors will be shifted out of the market. This evolution in the company's model concerns some of its scalable server-grade SoCs, specifically those with an M-suffix in their Platinum model number. In other words, it gravitates in favor of (for example) the Platinum 8280L, whereas its counterpart the 8280M will be depreciated.
This seems like a conventional market-driven move on the part of Intel. However, those looking to build rigs at the multi-socket scale may do well to take note. The Platinum-Ms in this case - for example, the 8260M, 8276M and 8280M supported a maximum of 2TB DDR4 memory at 2933MHz, whereas their L counterparts sustain up to 4.5TB at the same speed. However, all of the silicon in question still adheres to S8S scalability (while also maintaining a constant TDP per sub-variant).
More importantly, these processors (including the Platinum 8260L, 8276L and 8280L) will be moving down to occupy the same approximately sub-US$150000 space, whereas they would have been in the up to ~$170000 arena at their launch. Therefore, those looking to build their servers now would do well to take information such as this into account into the coming year.