Surface Laptop 3: 3x more powerful than the MacBook Air and with a custom Ryzen Surface Edition processor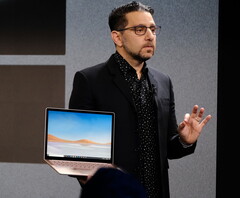 The Surface Laptop 3 is here, and it is arriving in two variants. As per previous leaks, Microsoft has announced 13.5-inch and 15-inch variants of its next laptop. The 13.5-inch version comes with an Intel Ice Lake quad-core processor, while Microsoft has partnered with AMD to create a custom Ryzen chip for the 15-inch version. Both models come with USB Type-C, fast charging and better serviceability than the Surface Laptop 2 too. The Surface Laptop 3 will start at US$999 and will be available to order from October 22.
Today, Microsoft has announced the Surface Laptop 3, and as expected it will arrive in two variants. The successor to the Surface Laptop 2 will retain its predecessor's 13.5-inch display but has Microsoft has added a 15-inch SKU too. Both devices will be more serviceable than the Surface Laptop 2 too, with Microsoft claiming that the Surface Laptop 3 will have a removable SSD, although it is unclear at this stage whether only qualified technicians will be able to change this. We doubt that the Laptop 3 will score a 0 for repairability as the original Surface Laptop did when torn down by iFixit too, as Microsoft claims that the device can be opened with specialised tools.
It seems that Microsoft will equip the 13.5-inch model will only feature Intel processors, while the 15-inch model will incorporate an AMD APU instead. Microsoft is yet to go into specifics, but the former will include quad-core Intel Ice Lake CPUs that the Redmond-based company claims will make the Surface Laptop 3 "3x more powerful than the MacBook Air".
Panos Panay has confirmed that Microsoft and AMD have partnered to integrate the AMD Ryzen Surface Edition processor within the 15-inch model, which will be a custom Ryzen 7 chip with a Ryzen RX Vega 11 GPU. This differs from leaks that claimed Microsoft would sell variants with existing Ryzen 5 and Ryzen 7 processors, but they may still prove true once the company releases more information about the variants that it will release.
The Surface Laptop 3 will start at US$999 for the 13.5-inch model and US$1,199 for the 15-inch model. Both devices will be available to order from October 22. (Surface Laptop 2 on sale now at Amazon)