Intel falls hopelessly short of the latest 32 core AMD Threadripper 3000 processor to hit Geekbench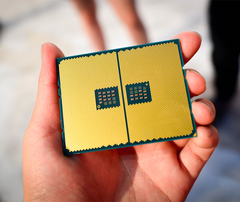 Intel is lining up its next-generation High-End Desktop (HEDT) processors, which it will still base on its 14 nm FinFET process. A new Threadripper 3000 Geekbench listing demonstrates how far Intel is behind AMD in the HEDT space though, with a 32 core SKU exceeding 65,000 points again in multicore work. The Zen 2-based series looks set to be compatible with Socket TR4 and the X570 chipset too.
A 32 core Ryzen Threadripper 3000 has appeared on Geekbench again, having last been seen at the end of August. This the fourth time that the results of a 32 core "Sharkstooth" processor have been posted on the benchmarking website, with all being named the AMD 100-000000011-11. They have all carried the identifier AuthenticAMD Family 23 Model 49 Stepping 0 too, an identifier not used by current Threadripper processors.
As we covered a few weeks ago, the 32 core Threadripper 3000 SKU performs outstandingly in the Geekbench multi-core benchmark. This new listing shows the processor scoring around 68,000 again when paired with 32 GB of DDR4 RAM. Unfortunately, we still do not know the speed of the RAM being used, which would have been helpful. By contrast, only the Ryzen 9 3900X has exceeded 40,000 points in Geekbench of the processors in our database, underlining the potential of the Zen 2 architecture.
This new listing reveals more than just performance, though. It confirms that AMD plans to introduce 4 MB of L3 cache on its Threadripper 3000 series processors, making it comparable to current 32 core EPYC processors. The Threadripper 2990WX, by comparison, has 2 MB of L3 cache per core, for reference. Geekbench also reports the 32 core Threadripper 3000 chip as having 3.59 GHz base and 4.23 GHz boost clock speeds, which are in line with current-generation Threadripper processors. Finally, this is the first Sharkstooth benchmark to report running on the X570 chipset, effectively confirming that the Threadripper 3000 series will be compatible with Socket TR4.