AMD will release the 16-core Ryzen 9 3950X and first 24-core Ryzen 3000 Threadripper processors in November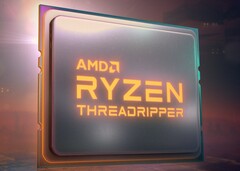 AMD has officially stated that the Ryzen 9 3950X desktop processor and the next generation of Ryzen Threadripper chips will be launched in November. Although some will be disappointed about the delay of the 16-core Matisse CPU, others will be excited about the confirmation of the HEDT chips, which start with 24-core SKUs.
Big news has emerged from the AMD Ryzen Twitter feed over the last few hours, with the company revealing details about the Ryzen 9 3950X and Threadripper 3000 series in a pair of tweets. In the first post, a passage of text reveals that AMD plans to launch the two products in November. The 16-core Ryzen 9 3950X, which has seemingly excelled in numerous leaked benchmarks, was originally expected to be launched in September.
The second tweet from AMD's Ryzen crew is a little more dynamic, as it contains a render of a Ryzen 3000 Threadripper chip and the revelation that the third generation of AMD's HEDT solution will begin with processors sporting 24 cores (48 threads with simultaneous multithreading). With mainstream processors like the Ryzen 9 3950X offering 16-core/32-thread performance, it raises the question of how far AMD is going to go with the third-generation Threadripper.
Nothing else has been officially confirmed about the Ryzen 3000 Threadripper series in regard to price and base/boost clocks, although leaks will likely soon start to flow aplenty. The last generation of AMD HEDT chips had a top-end SKU with 32 cores and 64 threads (Ryzen Threadripper 2990WX), which should be generously eclipsed by the third-generation Threadrippers. A 64-core monster has already been reported, and it's fair to presume a 48-core processor is on the cards.