Update | Acer Nitro 5 laptops appear on retailer website with AMD Ryzen 5 3550U APUs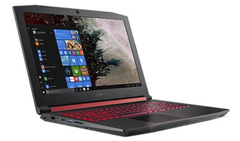 A Southeast Asian retail website has listed two Acer Nitro 5 laptops sporting AMD Ryzen 5 3550U processors. The new APU has been mentioned on various sites in the past but has not been made official by the red team yet. It's expected the Ryzen 5 3550U APU will feature a powerful Vega 9 iGPU and offer clock rates ranging from 2.1 GHz to 3.7 GHz.
Update: Acer has contacted Notebookcheck to confirm that these SKUs will actually come with AMD Ryzen 5 3550H processors.
Update September 24: An Acer spokesperson has contacted us to confirm that these Nitro 5 laptops will come with H-series processors from AMD and that the mention of U-series chips on Shopee's site is a typo. The retailer is yet to update its pages at the time of writing, though. It looks like it's still just Microsoft that is rumored to be preparing devices with the purported Ryzen 5 3550U.
It seems it won't be just Microsoft taking advantage of the AMD Ryzen 5 3550U processor in its Surface devices after all. A listing for an Acer Nitro 5 laptop has been spotted that shows the Taiwanese manufacturer also plans on utilizing the energy-efficient chip. Further digging uncovered not one but two Ryzen 5 3550U-powered laptops on the Philippine section of the Shopee website, which were differentiated by their storage options.
The models in question, the Acer Nitro 5 AN515-42-R3TY (1 TB HDD) and Acer Nitro 5 AN515-42-R41A (1 TB HDD + 256 GB SSD), also feature AMD's Radeon RX 560X graphics solution, so the presumed Vega 9 integrated into the Ryzen 5 3550U won't have to do all the work thanks to graphics-switching technology. However, from previous reports it seems that the Vega 9 iGPU can perform more than adequately for an integrated graphics chip anyway.
The Acer Nitro 5 listings apparently confirm the specifications for the Ryzen 5 3550U that were discovered on a Geekbench record recently: up to 2 MB L2 Cache, up to 4 MB L3 Cache, 2.1 GHz base clock rate with a boost of up to 3.7 GHz, 15 W TDP. The prices of these particular Acer Nitro 5 laptops, which also feature 4 GB RAM and FHD screens, are advertised at 37,999 and 43,999 Philippine pesos (US$730 and US$845), respectively.