AMD 3rd Gen Threadripper packaging leaked: Outlandish style for an outstanding chip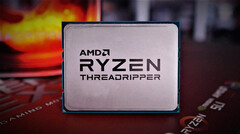 Packaging for a 3rd Gen Threadripper from AMD has been leaked. The box-within-a-box design features a square exterior case emblazoned with the famous orange Ryzen ring while the interior packaging resembles a sleek and even slightly futuristic somber gaming rig. It's believed AMD will be releasing the Castle Peak Ryzen Threadrippers very soon.
VideoCardz has shared images of the packaging for a next-generation AMD Ryzen Threadripper (see below), and it looks nothing like the marketing material for the previous HEDT generation. It was expected that the red team would announce the latest Threadrippers on November 5, but the latest rumor has now specified November 7 as the best bet for a Threadripper-related reveal. VideoCardz believes the packaging could be for the AMD Ryzen Threadripper 3960X (24 cores) and Threadripper 3970X (32 cores) SKUs.
At the time of writing, November 7 is mere hours away, but for those that simply cannot wait images of the packaging for a possible limited edition variant of the upcoming 3rd Gen Threadrippers have been posted. It has been opined that the box in question is for a special edition because it is numbered, but it's likely the regular SKUs will come in similar packaging. The main square-edged box is decorated in a quite garish manner, with the striking AMD "Ryzen Threadripper" name front and center.
The interior packaging is a complete redesign from the material that came with 2nd Gen Threadrippers. While the latter could be described as similar to a loudspeaker or a lunchbox, the visible 3rd Gen Threadripper processor is safely encased in a box that is not entirely dissimilar to a desktop PC case with rounded edges. It's appropriate packaging for a vaunted range of HEDT chips that are expected to have the potential to turn an enthusiast's rig into anything from a 24-core up to eventually a 64-core speed demon.