AMD moves on from 2019 as Zen 3, PS5, Scarlett, Samsung, and 7nm mobile await 2020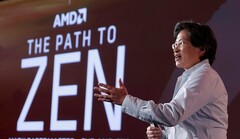 It can be easily argued that 2019 has been a standout year for AMD. Zen 2 Ryzen 3000 desktop processors have been shaking up benchmarks all over the place and the long-awaited Radeon RX 5000 series ("Navi") has introduced RDNA architecture to the world. But AMD's respected CEO, Lisa Su, understandably believes 2020 is going to be grander.
2019 is far from over for AMD as the company still has its 3rd Gen Threadripper processors and the Zen 2-based Ryzen 9 3950X to be launched, which will happen "over the next few weeks in November" according to Lisa Su. However, in an interview with VentureBeat, the AMD VIP has been detailing how she expects 2020 to be an even greater 12 months for the red team.
The executive made it clear that AMD has recently been ramping up processor production, with its extensive product range already growing by the quarter. Apparently, the company is "well underway" in regard to the development of Zen 3 processors, while 7nm Zen 2 mobile chips will finally be making a welcome appearance in early 2020.
Contributing to the expected size of AMD's 2020 business will be the introduction of the next-generation consoles in the form of the PlayStation 5 and Xbox Project Scarlett. As is already well known, AMD will be providing the processing power for both consoles. Su considered 2019 to be a period of "ramping down the current generation" (in regard to games consoles) and, of course, she thinks that the second half of 2020 will feature a "strong ramp" for AMD products.
Along with Zen 3 processors, Zen 2 mobile chips, and the AMD-powered PS5 and Xbox Project Scarlett, there is still another major operation coming the red team's way in 2020. AMD and Samsung have made a pact that involves the former company supplying its Radeon graphics-processing know-how for the latter company's upcoming mobile portfolio. It's a huge deal for AMD and helps justify Su's claim that "2020 will be an even larger product year for us."
Working For Notebookcheck
Are you a techie who knows how to write? Then join our Team! Especially English native speakers welcome!
Currently wanted:
News and Editorial Editor - Details here