AMD Ryzen 9 3950X takes on the Intel Core i9-9980XE at stock settings in Cinebench R20, offers potentially higher performance per dollar than even the Core i9-10980XE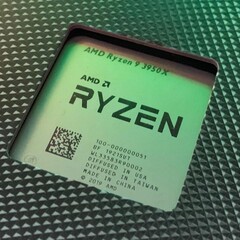 New benchmark scores of the AMD Ryzen 9 3950X seem to indicate that AMD's upcoming flagship CPU can offer performance equivalent to Intel's HEDT chips such as the Core i9-9980XE and the Core i9-10980XE while beating them in terms of performance per dollar. The Ryzen 9 3950X was benchmarked using Cinebench R20 at stock settings.
AMD announced the flagship 16C/32T Ryzen 9 3950X back during E3 2019, but the processor will only launch alongside the Threadripper 3000 series this November. We've seen several benchmarks of the Ryzen 9 3950X before and now, we get to see it take on HEDT processors such as the Threadripper 1950X and the Intel Core i9-9980XE in Cinebench R20.
The benchmark data was apparently sent by a source to Wccftech. The Cinebench R20 benchmark was run at stock settings and the Ryzen 9 3950X managed to score 8789 points (per core score of 549) whilst maintaining an all-core boost of 3.9 GHz and a single-core boost of 4.7 GHz on the Asus Prime X570-P motherboard. The Core i9-9980XE, on the other hand, manages a somewhat higher score of 8833 points but gets a low per-core score of just 490. For perspective, the Threadripper 1950X scores just 6670 in the test.
The Ryzen 9 3950X offers a distinctive advantage in terms of performance per dollar compared to the Core i9-9980XE, Threadripper 1950X, and even the latest Cascade Lake-X Core i9-10980XE (score not shown) by offering 11.73 CB points per dollar. The numbers are likely to get even better when overclocking is factored-in. The Core i9-10980XE can achieve an all-core boost up to 4.8 GHz while the Ryzen 9 3950X can boost up to 4.3 GHz when overclocked.
We will of course be testing the Ryzen 9 3950X before drawing any conclusions ourselves, but from what we get to see so far, unless you really need the extra boost and two additional cores in the Core i9-10980XE, the Ryzen 9 3950X at US$749 can be immense value for money for demanding workflows.