Xiaomi Mi Mix 4 (Mi Mix Alpha): Xiaomi teases 100% screen-to-body ratio and demonstrates 108 MP camera capabilities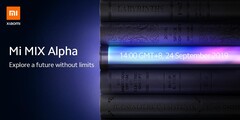 Not content on just outdoing the iPhone 11 Pro Max and Mate 30 Pro on cameras, Xiaomi has hinted that it will release a successor to the Mi Mix 3 with a 100% screen-to-body ratio on September 24 at an event in Beijing. The device, currently called the Mi Mix Alpha by the Chinese company, will feature a host of other flagship hardware as previously confirmed by leaker Xiaomishka.
The successor to the Mi Mix 3 is nearly upon us. Xiaomi has already confirmed that it will unveil the device at a launch event in Beijing on September 24 at 14:00 CST (GMT +8), and it has been teasing fans with titbits since. Originally thought to be called the Mi Mix 4, Xiaomi has seemingly switched its naming scheme to the Mi Mix Alpha.
Cryptically, the company recently tweeted "do you think it's time to go BEYOND bezel-less" with a photo containing the message "Would you like to see 100% full screens?". The previous day it tweeted the photo above, hinting at the extreme display curvature that Xiaomi has used to achieve its claim of a 100% screen-to-body ratio. We would take the above with a pinch of scepticism at this point, as marketing renders are not always an accurate representation of retail units.
Today, tipster @Sudhanshu1414 tweeted three photos claimed to be taken using the Mi Mix Alpha and its 108 MP ISOCELL Bright HMX camera sensor. The Bright HMX can shoot in up to 12,032 x 9,024, with each 108 MP file apparently exceeding 40 MB. The photos below are no indication of how well the Bright HMX will fare in trickier lighting conditions, but it does at least seemingly confirm that the Mi Mix Alpha will feature the new 108 MP sensor, as previously claimed by Xiaomishka. We will, of course, keep you updated with the devices that Xiaomi announces tomorrow at its launch event in Beijing at 14:00 CST (GMT +8).